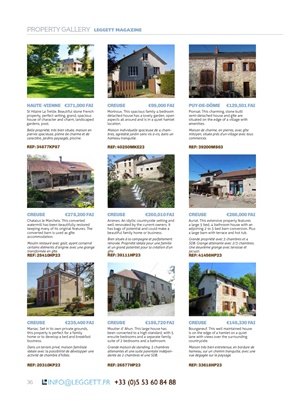 T
he Finistère village of
Locronan frequently
dazzles visitors. Elected both a Breton
Petite
Cité de Caractère and
one of the Plus Beaux Villages
de France, it is a well-preserved
village that makes you feel
as if you are stepping back in
time.  So much so that filmmakers
have frequently shown
Locronan's charms on the silver
screen, and tourists gravitate
to its quaint shops, restaurants
and artists studios. Its grand
eighteenth-century houses that
used to belong to the weavers
and merchants are the legacy of
its sail-making fame.
It's also close to the coast
with the Bay of Douarnenez,
LOCRONAN
BRITTANY
with four superb beaches
great for water sports that help
attract outdoorsy, active types
to this area. "It's a great place
to live surrounded by history,
close to the coast, and a short
drive to the medieval city of
Quimper - about 16km away,"
says Lisa Greene, who heads up
Leggett's Brittany network of
agents. "It's quite hard to find
things for sale in the centre
of the village, but you'll find a
renovated longère for around
€250,000." The average house
price in the region of Brittany is
€148,500 with prices tending
to rise if you want your new
home to offer s 'sea view' and a
'walk to the beach'.