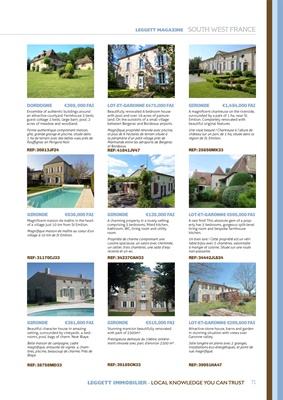 71
HAUTE-SAVOIE (74) €770,000 FAI
Le Grand-Bornand. Traditional Savoyard
chalet dating from 1787. Prime location
and walking distance to ski slopes.
Le Grand-Bornand. Chalet savoyard
traditionnel datant de 1787. Emplacement
exceptionnel. A distance de marche des
pistes.
REF: 60503SD74
HAUTE-SAVOIE (74) €546,000 FAI
La Clusaz. Semi-detached 3 bed south
facing ski chalet with fabulous views of
the Chaine des Aravis. Walkable to lifts.
La Clusaz. Chalet mitoyen de 3 chambres
à distance de marche des pistes. Exposition sud avec de merveilleuses
vues sur la
Chaînes des Aravis.
REF: 61994SD74
HAUTE-SAVOIE (74) €1,390,000 FAI
Les Praz-de-Chamonix. Wonderful 6 bed
family country house located in a quiet
village setting close to the golf course. A
fantastic renovation.
Les Praz-de-Chamonix. Merveilleuse maison
de campagne située dans un village paisible proche du golf. Très belle
rénovation.
REF: 49840DL74
HAUTE-SAVOIE (74) €550,000 FAI
Argentière. Bright and modern 3 bed ski
apartment. 2 minutes drive/15 minute
walk to the slopes.
Argentière. Appartement moderne et
lumineux de 3 chambres à 2 min en voiture
ou à 15 min à pied des pistes.
REF: 59696LON74
HAUTE-SAVOIE (74) €1,150,000 FAI
Les Houches. Stunning chalet with 3 independent living areas.
3 bed apartment,
2 bed apartment and 1 bed ground floor
apartment. Stunning views.
Les Houches. Superbe chalet comprenant 3
appartements indépendants (de trois, deux
et une chambre) avec des vues imprenables.
REF: 61106LON74
HAUTE-SAVOIE (74) €161,000 FAI
Argentière. 2 bed ski apartment moments
from the lifts. Ripe for refurbishment.
Argentière. Appartement de 2 chambres
à deux pas des remontées mécaniques. A
rénover !
REF: 63968LON74
HAUTE-SAVOIE (74) €1,500,000 FAI
Les Gets. Magnificent 5 bed Savoyard
farmhouse. Exquisitely restored in 2006
and tastefully finished by an interior
designer.
Les Gets. Ferme savoyarde de 5 chambres,
parfaitement rénovée en 2006 et élégamment décorée par un architecte
d'intérieur.
REF: 61279FCA74
HAUTE-SAVOIE (74) €950,000 FAI
Abondance. 2 adjoining chalets with stunning views
and close to skiing. Business
opportunity.
Abondance. 2 chalets attenants. Belle
opportunité commerciale. Vues exceptionnelles.
A proximité des pistes.
REF: 61439NJO74
HAUTE-SAVOIE (74) €1,575,000 FAI
Samoëns. Magnificent chalet with 2 apartments and swimming pool, 6 luxury ensuite
bedrooms,
1 x 3 bed apartment, 1 x
1 bed apartment and panoramic views.
Samoëns. Magnifique chalet avec 2 appartements et une piscine. 6 chambres/6 SDB.
Appartement de 3 chambres. Appartement
de 1 chambre. Vues panoramiques.
REF: 64849SA74
LEGGETT MAGAZINE FRENCH ALPS
LEGGETT IMMOBILIER - LOCAL KNOWLEDGE YOU CAN TRUST