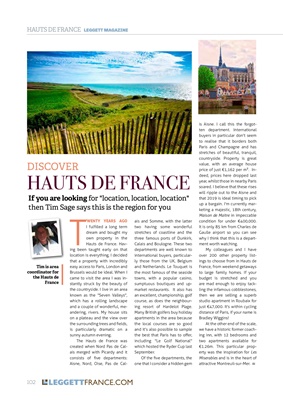 102 LEGGETTFRANCE.COM
HAUTS DE FRANCE LEGGETT MAGAZINE
T
'WENTY YEARS AGO
I fulfilled a long term
dream and bought my
own property in the
Hauts de France. Having been
taught early on that
location is everything, I decided
that a property with incredibly
easy access to Paris, London and
Brussels would be ideal. When I
came to visit the area I was instantly struck
by the beauty of
the countryside. I live in an area
known as the "Seven Valleys",
which has a rolling landscape
and a couple of wonderful, meandering,
rivers. My house sits
on a plateau and the view over
the surrounding trees and fields,
is particularly dramatic on a
sunny autumn evening.
The Hauts de France was
created when Nord Pas de Calais merged
with Picardy and it
consists of five departments:
Aisne, Nord, Oise, Pas de Calais and
Somme, with the latter
two having some wonderful
stretches of coastline and the
three famous ports of Dunkirk,
Calais and Boulogne. These two
departments are well known to
international buyers, particularly those
from the UK, Belgium
and Netherlands. Le Touquet is
the most famous of the seaside
towns, with a popular casino,
sumptuous boutiques and upmarket
restaurants. It also has
an excellent, championship, golf
course, as does the neighbouring resort
of Hardelot Plage.
Many British golfers buy holiday
apartments in the area because
the local courses are so good
and it's also possible to sample
the best that Paris has to offer,
including "Le Golf National"
which hosted the Ryder Cup last
September.
Of the five departments, the
one that I consider a hidden gem
HAUTS DE FRANCE
DISCOVER
Tim is area
coordinator for
the Hauts de
France
is Aisne. I call this the forgotten department.
International
buyers in particular don't seem
to realise that it borders both
Paris and Champagne and has
stretches of beautiful, tranquil,
countryside. Property is great
value, with an average house
price of just €1,162 per m2. Indeed, prices
here dropped last
year, whilst those in nearby Paris
soared. I believe that these rises
will ripple out to the Aisne and
that 2019 is ideal timing to pick
up a bargain. I'm currently marketing
a majestic, 18th century,
Maison de Maitre in impeccable
condition for under €400,000.
It is only 85 km from Charles de
Gaulle airport so you can see
why I think that this is a department worth
watching.
My colleagues and I have
over 200 other property listings to
choose from in Hauts de
France, from weekend getaways
to large family homes. If your
budget is stretched and you
are mad enough to enjoy tackling the
infamous cobblestones,
then we are selling a superb
studio apartment in Roubaix for
just €47,000. It's within cycling
distance of Paris, if your name is
Bradley Wiggins!
At the other end of the scale,
we have a historic former coaching inn,
with 12 bedrooms and
two apartments available for
€1.26m. This particular property was
the inspiration for Les
Miserables and is in the heart of
attractive Montreuil-sur-Mer.
If you are looking for "location, location, location"
then Tim Sage says this is the region for you