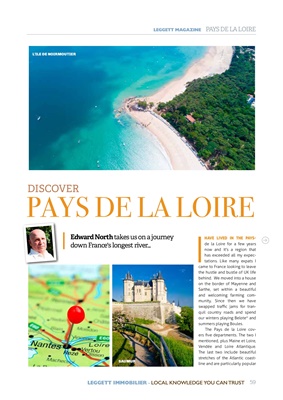 A GALETTE AND BRETON CIDER
LE CONQUET
I
HAVE LIVED IN THE PAYS-
de la Loire for a few years
now and it's a region that
has exceeded all my expectations. Like
many expats I
came to France looking to leave
the hustle and bustle of UK life
behind. We moved into a house
on the border of Mayenne and
Sarthe, set within a beautiful
and welcoming farming community.
Since then we have
swapped traffic jams for tranquil country
roads and spend
our winters playing Belote* and
summers playing Boules.
The Pays de la Loire covers
five departments. The two I
mentioned, plus Maine et Loire,
Vendée and Loire Atlantique.
The last two include beautiful
stretches of the Atlantic coastline and are
particularly popular
Edward North takes us on a journey
down France's longest river...
PAYS DE LA LOIRE
DISCOVER
SAUMUR
L'ILE DE NOIRMOUTIER
LEGGETT MAGAZINE PAYS DE LA LOIRE
59
LEGGETT IMMOBILIER - LOCAL KNOWLEDGE YOU CAN TRUST