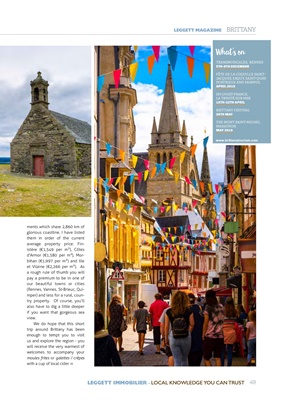 LEGGETT MAGAZINE BRITTANY
ments which share 2,860 km of
glorious coastline, I have listed
them in order of the current
average property price: Finistère
(€1,549 per m2), Côtes
d'Armor (€1,580 per m2), Morbihan (€1,997 per m2)
and Ille
et Vilaine (€2,266 per m2). As
a rough rule of thumb you will
pay a premium to be in one of
our beautiful towns or cities
(Rennes, Vannes, St-Brieuc, Quimper) and less
for a rural, country property.
Of course, you'll
also have to dig a little deeper
if you want that gorgeous sea
view.
We do hope that this short
trip around Brittany has been
enough to tempt you to visit
us and explore the region - you
will receive the very warmest of
welcomes to accompany your
moules frites or galettes / crêpes
with a cup of local cider.
49
LEGGETT IMMOBILIER - LOCAL KNOWLEDGE YOU CAN TRUST
What's on
TRANSMUSICALES, RENNES
5TH-9TH DECEMBER
FÊTE DE LA COQUILLE SAINTJACQUES,
ERQUY, SAINT-QUAYPORTRIEUX
AND PAIMPOL
APRIL 2019
SPI OUEST-FRANCE,
LA TRINITÉ-SUR-MER
18TH-22TH APRIL
BRITTANY FESTIVAL
26TH MAY
THE MONT SAINT-MICHEL
MARATHON
MAY 2019