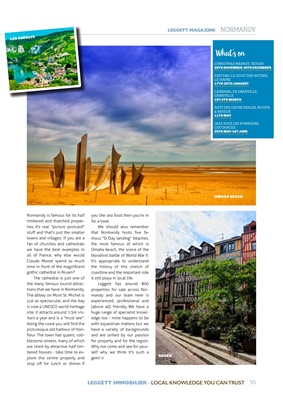 55
Normandy is famous for its half
timbered and thatched properties. It's
real "picture postcard"
stuff and that's just the smaller
towns and villages.  If you are a
fan of churches and cathedrals
we have the best examples in
all of France, why else would
Claude Monet spend so much
time in front of the magnificent
gothic cathedral in Rouen?
The cathedral is just one of
the many famous tourist attractions that
we have in Normandy.
The abbey on Mont St. Michel is
just as spectacular, and the bay
is now a UNESCO world heritage
site, it attracts around 1.5m visitors
a year and is a "must see".
Along the coast you will find the
picturesque old harbour of Honfleur.
The town has quaint, cobblestone streets,
many of which
are lined by attractive half timbered
houses - take time to explore
the centre properly and
stop off for lunch or dinner. If
you like sea food then you're in
for a treat.
We should also remember
that Normandy hosts five famous "D Day landing" beaches,
the most famous of which is
Omaha beach, the scene of the
bloodiest battle of World War II.
It's appropriate to understand
the history of this stretch of
coastline and the important role
it still plays in local life.
Leggett has around 800
properties for sale across Normandy and our team here
is
experienced, professional and
(above all) friendly. We have a
huge range of specialist knowledge
too - mine happens to be
with equestrian matters but we
have a variety of backgrounds
and are united by our passion
for property and for the region.
Why not come and see for yourself why we
think it's such a
gem!
What's on
CHRISTMAS MARKET, ROUEN
28TH NOVEMBER-30TH DECEMBER
FESTIVAL LE GOUT DES AUTRES,
LE HAVRE
17TH-20TH JANUARY
CARNAVAL DE GRANVILLE,
GRANVILLE
1ST-5TH MARCH
NUIT DES CATHEDRALES, ROUEN
& BAYEUX
11TH MAY
JAZZ SOUS LES POMMIERS,
COUTANCES
25TH MAY-1ST JUNE
LEGGETT MAGAZINE NORMANDY
OMAHA BEACH
ROUEN
LES ANDELYS
LEGGETT IMMOBILIER - LOCAL KNOWLEDGE YOU CAN TRUST