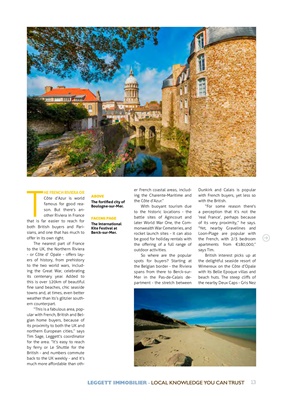 13
T
HE FRENCH RIVIERA OR
CÔte d'Azur is world
famous for good reason. But there's
another Riviera
in France
that is far easier to reach for
both British buyers and Parisians, and
one that has much to
offer in its own right.
The nearest part of France
to the UK, the Northern Riviera
- or CÔte d' Opale - offers layers
of history, from prehistory
to the two world wars, including the
Great War, celebrating
its centenary year. Added to
this is over 120km of beautiful
fine sand beaches, chic seaside
towns and, at times, even better
weather than its's glitzier southern counterpart.
"This is a fabulous area, popular with French,
British and Belgian home buyers,
because of
its proximity to both the UK and
northern European cities," says
Tim Sage, Leggett's coordinator
for the area. "It's easy to reach
by ferry or Le Shuttle for the
British - and numbers commute
back to the UK weekly - and it's
much more affordable than other French
coastal areas, including the Charente-Maritime
and
the CÔte d'Azur."
With buoyant tourism due
to the historic locations - the
battle sites of Agincourt and
later World War One, the Commonwealth
War Cemeteries, and
rocket launch sites - it can also
be good for holiday rentals with
the offering of a full range of
outdoor activities.
So where are the popular
spots for buyers? Starting at
the Belgian border - the Riviera
spans from there to Berck-surMer in
the Pas-de-Calais department - the stretch
between
Dunkirk and Calais is popular
with French buyers, yet less so
with the British.
"For some reason there's
a perception that it's not the
'real France', perhaps because
of its very proximity," he says.
"Yet, nearby Gravelines and
Loon-Plage are popular with
the French, with 2/3 bedroom
apartments from €180,000,"
says Tim.
British interest picks up at
the delightful seaside resort of
Wimereux on the Côte d'Opale
with its Belle Epoque villas and
beach huts. The steep cliffs of
the nearby Deux Caps - Gris Nez
ABOVE
The fortified city of
Boulogne-sur-Mer.
FACING PAGE
The International
Kite Festival at
Berck-sur-Mer.
LEGGETT IMMOBILIER - LOCAL KNOWLEDGE YOU CAN TRUST