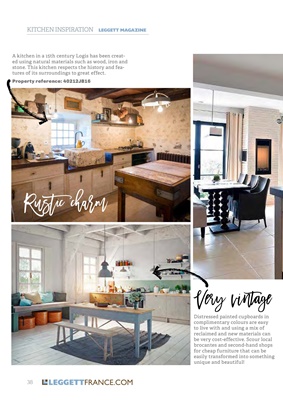 38 LEGGETTFRANCE.COM
7. 8.
Very vintage
Rustic charm
A kitchen in a 15th century Logis has been created
using natural materials such as wood, iron and
stone. This kitchen respects the history and features
of its surroundings to great effect.
Property reference: 40212JB16
Distressed painted cupboards in
complimentary colours are easy
to live with and using a mix of
reclaimed and new materials can
be very cost-effective. Scour local
brocantes and second-hand shops
for cheap furniture that can be
easily transformed into something
unique and beautiful!
Y
Y KITCHEN INSPIRATION LEGGETT MAGAZINE