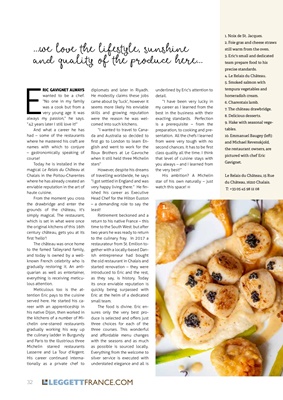 32 LEGGETTFRANCE.COM
E
RIC GAVIGNET ALWAYS
wanted to be a chef.
"No one in my family
was a cook but from a
very young age it was
always my passion," he says.
"42 years later I still love it!"
And what a career he has
had - some of the restaurants
where he mastered his craft are
names with which to conjure
- gastronomically speaking of
course!
Today he is installed in the
magical Le Relais du Château at
Chalais in the Poitou-Charentes
where he has already created an
enviable reputation in the art of
haute cuisine.
From the moment you cross
the drawbridge and enter the
grounds of the château, it's
simply magical. The restaurant,
which is set in what were once
the original kitchens of this 16th
century château, gets you at its
first 'hello'!
The château was once home
to the famed Talleyrand family,
and today is owned by a wellknown
French celebrity who is
gradually restoring it. An antiquarian as well
as entertainer,
everything is receiving meticulous attention.
Meticulous too is the attention Eric pays to the cuisine
served here. He started his career
with an apprenticeship in
his native Dijon, then worked in
the kitchens of a number of Michelin one-starred
restaurants
gradually working his way up
the culinary ladder in Burgundy
and Paris to the illustrious three
Michelin starred restaurants
Lasserre and La Tour d'Argent.
His career continued internationally as a private chef
to diplomats and later in Riyadh.
He modestly claims these jobs
came about by 'luck', however it
seems more likely his enviable
skills and growing reputation
were the reason he was welcomed
into such kitchens.
"I wanted to travel to Canada and Australia
so decided to
first go to London to learn English and went
to work for the
Roux Brothers at Le Gavroche
when it still held three Michelin
stars"
However, despite his dreams
of travelling worldwide, he says
"I got settled in England and was
very happy living there." He finished his
career as Executive
Head Chef for the Hilton Euston
- a demanding role to say the
least!
Retirement beckoned and a
return to his native France - this
time to the South West: but after
two years he was ready to return
to the culinary fray. In 2017 a
restaurateur from St. Emilion together
with a locally-based Danish entrepreneur
had bought
the old restaurant in Chalais and
started renovation - they were
introduced to Eric and the rest,
as they say, is history. Today
its once enviable reputation is
quickly being surpassed with
Eric at the helm of a dedicated
small team.
The food is divine. Eric ensures
only the very best produce
is selected and offers just
three choices for each of the
three courses. This wonderful
and affordable menu changes
with the seasons and as much
as possible is sourced locally.
Everything from the welcome to
silver service is executed with
understated elegance and all is
underlined by Eric's attention to
detail.
"I have been very lucky in
my career as I learned from the
best in the business with their
exacting standards. Perfection
is a prerequisite - from the
preparation, to cooking and presentation. All the chefs
I learned
from were very tough with no
second chances. It has to be first
class quality all the time. I think
that level of cuisine stays with
you always - and I learned from
the very best!"
His ambition? A Michelin
star of his own naturally - just
watch this space!
...we love the lifestyle, sunshine
and quality of the produce here...
1.
1. Noix de St. Jacques.
2. Foie gras and cheese straws
still warm from the oven.
3. Eric's small and dedicated
team prepare food to his
precise standards.
4. Le Relais du Château.
5. Smoked salmon with
tempura vegetables and
horseradish cream.
6. Charentais lamb.
7. The château drawbridge.
8. Delicious desserts.
9. Hake with seasonal vegetables.
10. Emmanuel Baugey (left)
and Michael Revenskjold,
the restaurant owners, are
pictured with chef Eric
Gavignet.
Le Relais du Château, 15 Rue
du Château, 16210 Chalais.
T: +33 05 45 98 12 08