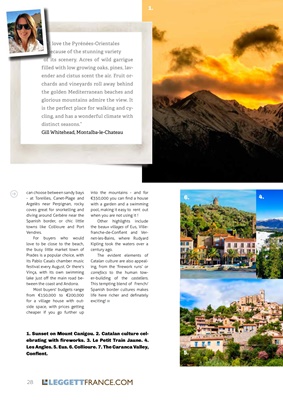 28 LEGGETTFRANCE.COM
28 LEGGETTFRANCE.COM
1. Sunset on Mount Canigou. 2. Catalan culture celebrating
with fireworks. 3. Le Petit Train Jaune. 4.
Les Angles. 5. Eus. 6. Collioure. 7. The Caranca Valley,
Conflent.
can choose between sandy bays
- at Toreilles, Canet-Plage and
Argelès near Perpignan, rocky
coves great for snorkelling and
diving around Cerbère near the
Spanish border, or chic little
towns like Collioure and Port
Vendres.
For buyers who would
love to be close to the beach,
the busy little market town of
Prades is a popular choice, with
its Pablo Casals chamber music
festival every August. Or there's
Vinça, with its own swimming
lake just off the main road between
the coast and Andorra.
Most buyers' budgets range
from €150,000 to €200,000
for a village house with outside space,
with prices getting
cheaper if you go further up
into the mountains - and for
€350,000 you can find a house
with a garden and a swimming
pool, making it easy to rent out
when you are not using it !
Other highlights include
the beaux villages of Eus, Villefranche-de-Conflent
and Vernet-les-Bains,
where Rudyard
Kipling took the waters over a
century ago.
The evident elements of
Catalan culture are also appealing,
from the 'firework runs' or
correfocs to the human tower-building of
the castellers.
This tempting blend of French/
Spanish border cultures makes
life here richer and definately
exciting!
"I love the Pyrénées-Orientales
because of the stunning variety
of its scenery. Acres of wild garrigue
filled with low growing oaks, pines, lavender and cistus
scent the air. Fruit orchards
and vineyards roll away behind
the golden Mediterranean beaches and
glorious mountains admire the view. It
is the perfect place for walking and cycling,
and has a wonderful climate with
distinct seasons."
Gill Whitehead, Montalba-le-Chateau
1.
6. 4.
5.