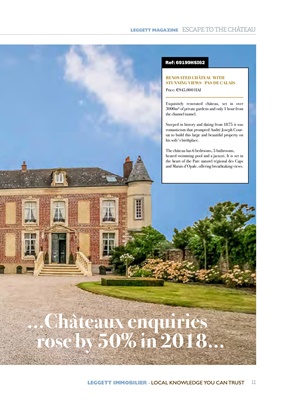 LEGGETT MAGAZINE ESCAPE TO THE CHÂTEAU
111111
LEGGETT IMMOBILIER - LOCAL KNOWLEDGE YOU CAN TRUST
RENOVATED CHÂTEAU WITH
STUNNING VIEWS - PAS DE CALAIS
Price: €945,000 HAI
Exquisitely renovated château, set in over
3000m² of private gardens and only 1 hour from
the channel tunnel.
Steeped in history and dating from 1875 it was
romanticism that prompted André Joseph Courtat to
build this large and beautiful property on
his wife's birthplace.
The château has 6 bedrooms, 5 bathrooms,
heated swimming pool and a jacuzzi. It is set in
the heart of the Parc naturel régional des Caps
and Marais d'Opale, offering breathtaking views.
Ref: 69199HSI62
...Châteaux enquiries
rose by 50% in 2018...