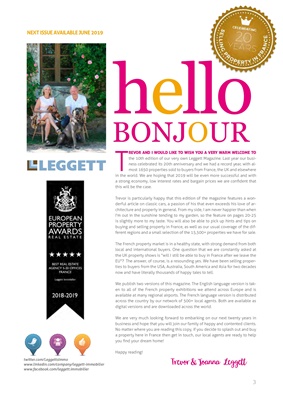 LEGGETTPRESTIGE
3
T
REVOR AND I WOULD LIKE TO WISH YOU A VERY WARM WELCOME TO
the 10th edition of our very own Leggett Magazine. Last year our business
celebrated its 20th anniversary and we had a record year, with almost 1650 properties
sold to buyers from France, the UK and elsewhere
in the world. We are hoping that 2019 will be even more successful and with
a strong economy, low interest rates and bargain prices we are confident that
this will be the case.
Trevor is particularly happy that this edition of the magazine features a wonderful article on classic
cars, a passion of his that even exceeds his love of architecture
and property in general. From my side, I am never happier than when
I'm out in the sunshine tending to my garden, so the feature on pages 20-25
is slightly more to my taste. You will also be able to pick up hints and tips on
buying and selling property in France, as well as our usual coverage of the different
regions and a small selection of the 15,500+ properties we have for sale.
The French property market is in a healthy state, with strong demand from both
local and international buyers. One question that we are constantly asked at
the UK property shows is "will I still be able to buy in France after we leave the
EU"? The answer, of course, is a resounding yes. We have been selling properties to
buyers from the USA, Australia, South America and Asia for two decades
now and have literally thousands of happy tales to tell.
We publish two versions of this magazine. The English language version is taken to all of
the French property exhibitions we attend across Europe and is
available at many regional airports. The French language version is distributed
across the country by our network of 500+ local agents. Both are available as
digital versions and are downloaded across the world.
We are very much looking forward to embarking on our next twenty years in
business and hope that you will join our family of happy and contented clients.
No matter where you are reading this copy, if you decide to splash out and buy
a property here in France then get in touch, our local agents are ready to help
you find your dream home!
Happy reading! Trevor & Joanna Leggett
NEXT ISSUE AVAILABLE JUNE 2019
twitter.com/LeggettsImmo
www.linkedin.com/company/leggett-immobilier
www.facebook.com/leggett.immobilier helloBONJOUR