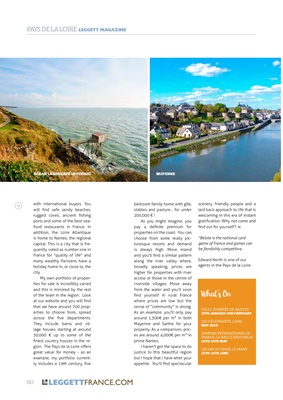 60 LEGGETTFRANCE.COM
with international buyers. You
will find safe sandy beaches,
rugged coves, ancient fishing
ports and some of the best seafood
restaurants in France. In
addition, the Loire Atlantique
is home to Nantes, the regional
capital. This is a city that is frequently voted
as number one in
France for "quality of life" and
many wealthy Parisiens have a
holiday home in, or close to, the
city.
My own portfolio of properties for
sale is incredibly varied
and this is mirrored by the rest
of the team in the region. Look
at our website and you will find
that we have around 700 properties to choose from,
spread
across the five departments.
They include barns and village
houses starting at around
30,000 € up to some of the
finest country houses in the region. The Pays
de la Loire offers
great value for money - as an
example, my portfolio currently includes
a 19th century, five
bedroom family home with gÎte,
stables and pasture... for under
200,000 € !
As you might imagine, you
pay a definite premium for
properties on the coast. You can
choose from some really picturesque
resorts and demand
is always high. Move inland
and you'll find a similar pattern
along the river valley where,
broadly speaking, prices are
higher for properties with river
access or those in the centre of
riverside villages. Move away
from the water and you'll soon
find yourself in rural France
where prices are low but the
sense of "community" is strong.
As an example, you'll only pay
around 1,300€ per m2 in both
Mayenne and Sarthe for your
property. As a comparison, prices are
around 4,000€ per m2 in
prime Nantes.
I haven't got the space to do
justice to this beautiful region
but I hope that I have whet your
appetite. You'll find spectacular
OCEAN LANDSCAPE IN PORNIC
What's On
FOLLE JOURNÉE DE NANTES
30TH JANUARY-3RD FEBRUARY
LES 3 ÉLÉPHANTS, LAVAL
MAY 2019
JUMPING INTERNATIONAL DE
FRANCE, LA BAULE-ESCOUBLAC
16TH-19TH MAY
LES 24H DU MANS, LE MANS
15TH-16TH JUNE
scenery, friendly people and a
laid back approach to life that is
welcoming in this era of instant
gratification. Why not come and
find out for yourself?.
*Belote is the national card
game of France and games can
be fiendishly competitive.
Edward North is one of our
agents in the Pays de la Loire.
MAYENNE
PAYS DE LA LOIRE LEGGETT MAGAZINE