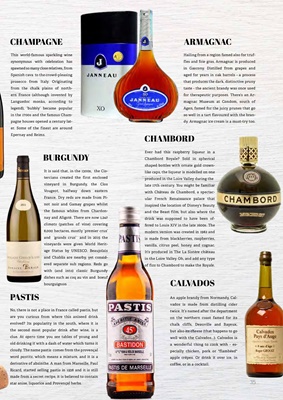 35
This world-famous sparkling wine
synonymous with celebration has
spawned so many close relatives, from
Spanish cava to the crowd-pleasing
prosecco from Italy. Originating
from the chalk plains of northern France
(although invented by
Languedoc monks, according to
legend), 'bubbly' became popular
in the 1700s and the famous Champagne
houses opened a century later.
Some of the finest are around
Epernay and Reims.
Hailing from a region famed also for truffles
and foie gras, Armagnac is produced
in Gascony. Distilled from grapes and
aged for years in oak barrels - a process
that produces the dark, distinctive pruny
taste - the ancient brandy was once used
for therapeutic purposes. There's an Armagnac
Museum at Condom, south of
Agen, famed for the juicy prunes that go
so well in a tart flavoured with the brandy.
Armagnac ice cream is a must-try too.
No, there is not a place in France called pastis, but
are you curious from where this aniseed drink
evolved? Its popularity in the south, where it is
the second most popular drink after wine, is a
clue. At apero time you see tables of young and
old drinking it with a dash of water which turns it
cloudy. The name pastis comes from the provençal
word pastitz, which means a mixture, and it is a
derivative of absinthe. A man from Marseille, Paul
Ricard, started selling pastis in 1938 and it is still
made from a secret recipe, it is believed to contain
star anise, liquorice and Provençal herbs.
An apple brandy from Normandy, Calvados
is made from distilling cider
twice. It's named after the department
on the northern coast famed for its
chalk cliffs, Deauville and Bayeux,
but also its cheese (that happens to go
well with the Calvados...). Calvados is
a wonderful thing to cook with - especially
chicken, pork or "flambéed"
apple crêpes. Or drink it over ice, in
coffee, or in a cocktail.
Ever had this raspberry liqueur in a
Chambord Royale? Sold in spherical
shaped bottles with ornate gold crownlike
caps, the liqueur is modelled on one
produced in the Loire Valley during the
late 17th century. You might be familiar
with Château de Chambord, a spectacular French
Renaissance palace that
inspired the location of Disney's Beauty
and the Beast film, but also where the
drink was supposed to have been offered
to Louis XIV in the late 1600s. The
modern version was created in 1982 and
is made from blackberries, raspberries,
vanilla, citrus peel, honey and cognac.
It's produced in The La Sistère château
in the Loire Valley. Oh, and add any type
of fizz to Chambord to make the Royale.
CHAMPAGNE
BURGUNDY
CHAMBORD
ARMAGNAC
PASTIS
CALVADOS
It is said that, in the 1300s, the Cistercians
created the first enclosed
vineyard in Burgundy, the Clos
Vougeot, halfway down eastern
France. Dry reds are made from Pinot noir
and Gamay grapes whilst
the famous whites from Chardonnay
and Aligoté. There are now 1,247
climats (patches of vine) covering
8,000 hectares, mostly 'premier crus'
and 'grands crus' and in 2015 the
vineyards were given World Heritage
Status by UNESCO. Beaujolais
and Chablis are nearby, yet considered
separate sub regions. Reds go
with (and into) classic Burgundy
dishes such as coq au vin and boeuf
bourguignon
35