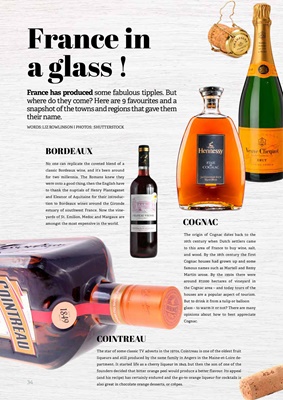 The star of some classic TV adverts in the 1970s, Cointreau is one of the oldest fruit
liqueurs and still produced by the same family in Angers in the Maine-et-Loire department.
It started life as a cherry liqueur in 1849, but then the son of one of the
founders decided that bitter orange peel would produce a better flavour. Its appeal
(and his recipe) has certainly endured and the go-to orange liqueur for cocktails is
also great in chocolate orange desserts, or crêpes. The origin of Cognac dates back to the
16th century when Dutch settlers came
to this area of France to buy wine, salt,
and wood. By the 18th century the first
Cognac houses had grown up and some
famous names such as Martell and Remy
Martin arose. By the 1990s there were
around 87,000 hectares of vineyard in
the Cognac area - and today tours of the
houses are a popular aspect of tourism.
But to drink it from a tulip or balloon
glass - to warm it or not? There are many
opinions about how to best appreciate
Cognac.
France in
a glass !
France has produced some fabulous tipples. But
where do they come? Here are 9 favourites and a
snapshot of the towns and regions that gave them
their name.
No one can replicate the coveted blend of a
classic Bordeaux wine, and it's been around
for two millennia. The Romans knew they
were onto a good thing, then the English have
to thank the nuptials of Henry Plantagenet
and Eleanor of Aquitaine for their introduction
to Bordeaux wines around the Gironde
estuary of southwest France. Now the vineyards
of St. Emilion, Medoc and Margaux are
amongst the most expensive in the world.
BORDEAUX COINTREAU
COGNAC
WORDS: LIZ ROWLINSON I PHOTOS: SHUTTERSTOCK
34