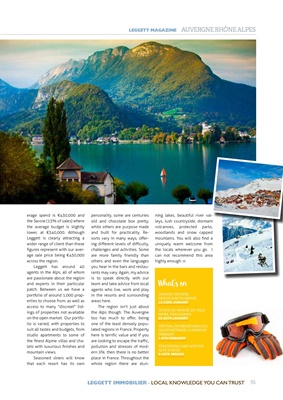 91
LEGGETT IMMOBILIER - LOCAL KNOWLEDGE YOU CAN TRUST
What's on
GRANDE ODYSSÉE,
SAVOIE/HAUTE-SAVOIE
12-23RD JANUARY
COUPE DU MONDE DE TELEMARK, PRALOGNAN
25-26TH JANUARY
FESTIVAL INTERNATIONAL DU
COURT-MÉTRAGE, CLERMONT
FERRAND
1-9TH FEBRUARY
TOMORROWLAND WINTER,
ALPE D'HUEZ
9-16TH MARCH
erage spend is €430,000 and
the Savoie (13% of sales) where
the average budget is slightly
lower, at €340,000. Although
Leggett is clearly attracting a
wider range of client than these
figures represent with our average
sale price being €450,000
across the region.
Leggett has around 40
agents in the Alps, all of whom
are passionate about the region
and experts in their particular
patch. Between us we have a
portfolio of around 1,000 properties to
choose from, as well as
access to many "discreet" listings of
properties not available
on the open market. Our portfolio is
varied, with properties to
suit all tastes and budgets, from
studio apartments to some of
the finest Alpine villas and chalets with
luxurious finishes and
mountain views.
Seasoned skiers will know
that each resort has its own
personality, some are centuries
old and chocolate box pretty,
while others are purpose made
and built for practicality. Resorts vary
in many ways, offering different
levels of difficulty,
challenges and activities. Some
are more family friendly than
others and even the languages
you hear in the bars and restaurants
may vary. Again, my advice
is to speak directly with our
team and take advice from local
agents who live, work and play
in the resorts and surrounding
areas here.
The region isn't just about
the Alps though. The Auvergne
too has much to offer, being
one of the least densely populated regions
in France. Property
here is terrific value and if you
are looking to escape the traffic,
pollution and stresses of modern life,
then there is no better
place in France. Throughout the
whole region there are stunning lakes,
beautiful river valleys,
lush countryside, dormant
volcanoes, protected parks,
woodlands and snow capped
mountains. You will also find a
uniquely warm welcome from
the locals wherever you go. I
can not recommend this area
highly enough.
LEGGETT MAGAZINE AUVERGNE RHÔNE ALPES