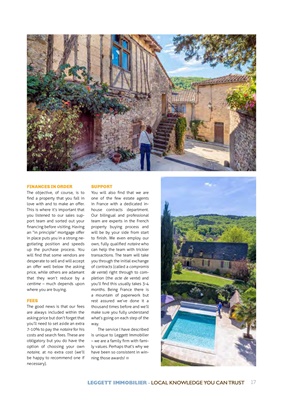 17
LEGGETT IMMOBILIER - LOCAL KNOWLEDGE YOU CAN TRUST
FINANCES IN ORDER
The objective, of course, is to
find a property that you fall in
love with and to make an offer.
This is where it's important that
you listened to our sales support team and sorted out your
financing before visiting. Having
an "in principle" mortgage offer
in place puts you in a strong negotiating
position and speeds
up the purchase process. You
will find that some vendors are
desperate to sell and will accept
an offer well below the asking
price, while others are adamant
that they won't reduce by a
centime - much depends upon
where you are buying.
FEES
The good news is that our fees
are always included within the
asking price but don't forget that
you'll need to set aside an extra
7-10% to pay the notaire for his
costs and search fees. These are
obligatory but you do have the
option of choosing your own
notaire, at no extra cost (we'll
be happy to recommend one if
necessary).
SUPPORT
You will also find that we are
one of the few estate agents
in France with a dedicated inhouse contracts
department.
Our bilingual and professional
team are experts in the French
property buying process and
will be by your side from start
to finish. We even employ our
own, fully qualified notaire who
can help the team with trickier
transactions. The team will take
you through the initial exchange
of contracts (called a compromis
de vente) right through to completion (the acte
de vente) and
you'll find this usually takes 3-4
months. Being France there is
a mountain of paperwork but
rest assured we've done it a
thousand times before and we'll
make sure you fully understand
what's going on each step of the
way.
The service I have described
is unique to Leggett Immobilier
- we are a family firm with family values. Perhaps
that's why we
have been so consistent in winning those awards!