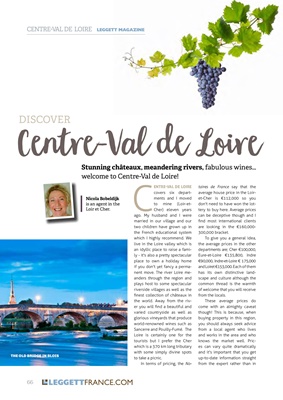 CENTRE-VAL DE LOIRE LEGGETT MAGAZINE
DISCOVER
66
C
ENTRE-VAL DE LOIRE
covers six departments and I moved
to mine (Loir-etCher) eleven
years
ago. My husband and I were
married in our village and our
two children have grown up in
the French educational system
which I highly recommend. We
live in the Loire valley which is
an idyllic place to raise a family -
it's also a pretty spectacular
place to own a holiday home
if you don't yet fancy a permanent move.
The river Loire meanders
through the region and
plays host to some spectacular
riverside villages as well as the
finest collection of châteaux in
the world. Away from the river you
will find a beautiful and
varied countryside as well as
glorious vineyards that produce
world-renowned wines such as
Sancerre and Pouilly-Fumé. The
Loire is certainly one for the
tourists but I prefer the Cher
which is a 370 km long tributary
with some simply divine spots
to take a picnic.
In terms of pricing, the NoStunning
châteaux, meandering rivers, fabulous wines...
welcome to Centre-Val de Loire!
taires de France say that the
average house price in the Loiret-Cher
is €112,000 so you
don't need to have won the lottery
to buy here. Average prices
can be deceptive though and I
find most international clients
are looking in the €160,000-
300,000 bracket.
To give you a general idea,
the average prices in the other
departments are; Cher €100,000,
Eure-et-Loire €135,800, Indre
€90,000, Indre-et-Loire € 175,000
and Loiret €153,000. Each of them
has its own distinctive landscape and culture
although the
common thread is the warmth
of welcome that you will receive
from the locals.
These average prices do
come with an almighty caveat
though! This is because, when
buying property in this region,
you should always seek advice
from a local agent who lives
and works in the area and who
knows the market well. Prices can vary quite dramatically
and it's important that you get
up-to-date information straight
from the expert rather than in
Nicola Bobeldijk
is an agent in the
Loir et Cher.
THE OLD BRIDGE IN BLOIS
Centre-Val de Loire
LEGGETTFRANCE.COM