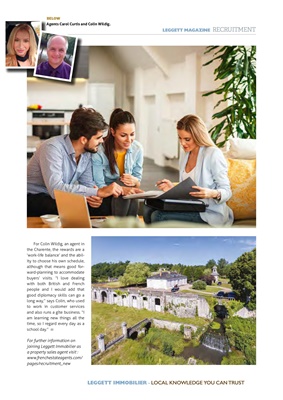 LEGGETT MAGAZINE RECRUITMENT
For Colin Wildig, an agent in
the Charente, the rewards are a
'work-life balance' and the ability to choose his own
schedule,
although that means good forward-planning
to accommodate
buyers' visits. "I love dealing
with both British and French
people and I would add that
good diplomacy skills can go a
long way," says Colin, who used
to work in customer services
and also runs a gÎte business. "I
am learning new things all the
time, so I regard every day as a
school day."
For further information on
joining Leggett Immobilier as
a property sales agent visit :
pages/recruitment_new
BELOW
Agents Carol Curtis and Colin Wildig.
LEGGETT IMMOBILIER - LOCAL KNOWLEDGE YOU CAN TRUST