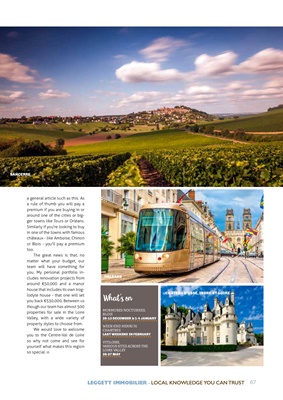 LEGGETT IMMOBILIER - LOCAL KNOWLEDGE YOU CAN TRUST 67
a general article such as this. As
a rule of thumb you will pay a
premium if you are buying in or
around one of the cities or bigger
towns like Tours or Orléans.
Similarly if you're looking to buy
in one of the towns with famous
châteaux - like Amboise, Chinon
or Blois - you'll pay a premium
too.
The great news is that, no
matter what your budget, our
team will have something for
you. My personal portfolio includes renovation
projects from
around €50,000 and a manor
house that includes its own troglodyte house - that one will set
you back €530,000. Between us
though our team has almost 500
properties for sale in the Loire
Valley, with a wide variety of
property styles to choose from.
We would love to welcome
you to the Centre-Val de Loire
so why not come and see for
yourself what makes this region
so special.
What's on
MURMURES NOCTURNES,
BLOIS
26-12 DECEMBER & 1-4 JANUARY
WEEK-END HENRI IV,
CHARTRES
LAST WEEKEND IN FEBRUARY
VITILOIRE,
VARIOUS SITES ACROSS THE
LOIRE VALLEY
26-27 MAY
SANCERRE
ORLEANS
CHÂTEAU D'USSÉ, INDRE-ET-LOIRE