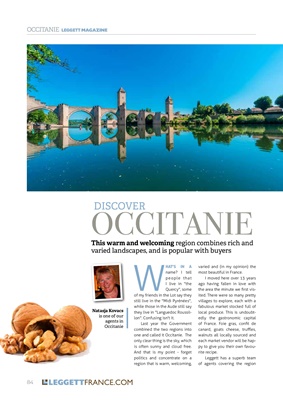 84
varied and (in my opinion) the
most beautiful in France.
I moved here over 13 years
ago having fallen in love with
the area the minute we first visited. There
were so many pretty
villages to explore, each with a
fabulous market stocked full of
local produce. This is undoubtedly the
gastronomic capital
of France. Foie gras, confit de
canard, goats cheese, truffles,
walnuts all locally sourced and
each market vendor will be happy
to give you their own favourite recipe.
Leggett has a superb team
of agents covering the region
W
HAT'S IN A
name? I tell
people that
I live in "the
Quercy", some
of my friends in the Lot say they
still live in the "Midi Pyrénées",
while those in the Aude still say
they live in "Languedoc Roussillon". Confusing
isn't it.
Last year the Government
combined the two regions into
one and called it Occitanie. The
only clear thing is the sky, which
is often sunny and cloud free.
And that is my point - forget
politics and concentrate on a
region that is warm, welcoming,
Natasja Kovacs
is one of our
agents in
Occitanie
DISCOVER
This warm and welcoming region combines rich and
varied landscapes, and is popular with buyers
OCCITANIE LEGGETT MAGAZINE
LEGGETTFRANCE.COM
OCCITANIE