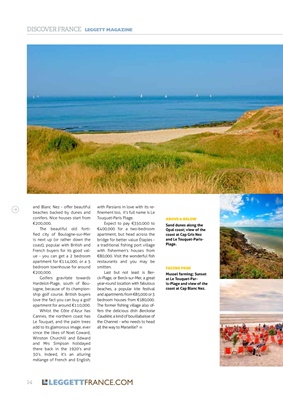 14 LEGGETTFRANCE.COM
DISCOVER FRANCE LEGGETT MAGAZINE
and Blanc Nez - offer beautiful
beaches backed by dunes and
conifers. Nice houses start from
€200,000.
The beautiful old fortified city
of Boulogne-sur-Mer
is next up (or rather down the
coast), popular with British and
French buyers for its good value - you
can get a 2 bedroom
apartment for €114,000, or a 5
bedroom townhouse for around
€200,000.
Golfers gravitate towards
Hardelot-Plage, south of Boulogne,
because of its championship golf
course. British buyers
love the fact you can buy a golf
apartment for around €110,000.
Whilst the CÔte d'Azur has
Cannes, the northern coast has
Le Touquet, and the palm trees
add to its glamorous image, ever
since the likes of Noel Coward,
Winston Churchill and Edward
and Mrs Simpson holidayed
there back in the 1920's and
30's. Indeed, it's an alluring
mélange of French and English,
with Parsians in love with its refinement too,
it's full name is Le
Touquet-Paris Plage.
Expect to pay €350,000 to
€400,000 for a two-bedroom
apartment, but head across the
bridge for better value Étaples -
a traditional fishing port village
with fishermen's houses from
€80,000. Visit the wonderful fish
restaurants and you may be
smitten.
Last but not least is Berck-Plage,
or Berck-sur-Mer, a great
year-round location with fabulous
beaches, a popular kite festival
and apartments from €85,000 or 3
bedroom houses from €180,000.
The former fishing village also offers
the delicious dish Berckoise
Caudière, a kind of bouillabaisse of
the Channel - who needs to head
all the way to Marseille?
ABOVE & BELOW
Sand dunes along the
Opal coast; view of the
coast at Cap Gris Nez
and Le Touquet-Paris-
Plage.
FACING PAGE
Mussel farming; Sunset
at Le Touquet-Paris-Plage
and view of the
coast at Cap Blanc Nez.