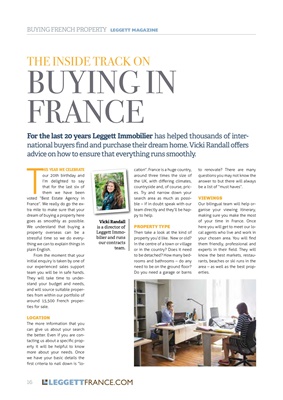 16 LEGGETTFRANCE.COM
For the last 20 years Leggett Immobilier has helped thousands of international
buyers find and purchase their dream home. Vicki Randall offers
advice on how to ensure that everything runs smoothly.
cation". France is a huge country,
around three times the size of
the UK, with differing climates,
countryside and, of course, prices. Try
and narrow down your
search area as much as possible -
if in doubt speak with our
team directly and they'll be happy
to help.
PROPERTY TYPE
Then take a look at the kind of
property you'd like. New or old?
In the centre of a town or village
or in the country? Does it need
to be detached? How many bedrooms
and bathrooms - do any
need to be on the ground floor?
Do you need a garage or barns
to renovate? There are many
questions you may not know the
answer to but there will always
be a list of "must haves".
VIEWINGS
Our bilingual team will help organise your
viewing itinerary,
making sure you make the most
of your time in France. Once
here you will get to meet our local agents
who live and work in
your chosen area. You will find
them friendly, professional and
experts in their field. They will
know the best markets, restaurants,
beaches or ski runs in the
area - as well as the best properties.
T
HIS YEAR WE CELEBRATE
our 20th birthday and
I'm delighted to say
that for the last six of
them we have been
voted "Best Estate Agency in
France". We really do go the extra
mile to make sure that your
dream of buying a property here
goes as smoothly as possible.
We understand that buying a
property overseas can be a
stressful time so we do everything we
can to explain things in
plain English.
From the moment that your
initial enquiry is taken by one of
our experienced sales support
team you will be in safe hands.
They will take time to understand your
budget and needs,
and will source suitable properties from
within our portfolio of
around 15,500 French properties for
sale.
LOCATION
The more information that you
can give us about your search
the better. Even if you are contacting us
about a specific property it will be helpful
to know
more about your needs. Once
we have your basic details the
first criteria to nail down is "loBUYING IN
FRANCE
BUYING FRENCH PROPERTY LEGGETT MAGAZINE
Vicki Randall
is a director of
Leggett Immobilier
and runs
our contracts
team.
THE INSIDE TRACK ON