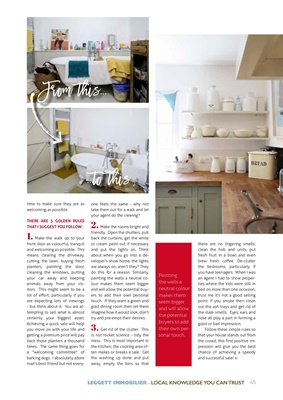 LEGGETT IMMOBILIER - LOCAL KNOWLEDGE YOU CAN TRUST
time to make sure they are as
welcoming as possible.
THERE ARE 3 GOLDEN RULES
THAT I SUGGEST YOU FOLLOW:
1. Make the walk up to your
front door as colourful, tranquil
and welcoming as possible. This
means clearing the driveway,
cutting the lawn, buying fresh
planters, painting the door,
cleaning the windows, putting
your car away and keeping
animals away from your visitors.
This might seem to be a
lot of effort, particularly if you
are expecting lots of viewings
- but think about it. You are attempting to sell what is almost
certainly your biggest asset.
Achieving a quick sale will help
you move on with your life and
getting a premium price will pay
back those planters a thousand
times. The same thing goes for
a "welcoming committee" of
barking dogs. I absolutely adore
man's best friend but not everyone feels
the same - why not
take them out for a walk and let
your agent do the viewing?
2. Make the rooms bright and
friendly. Open the shutters, pull
back the curtains, get the white
or cream paint out if necessary
and put the lights on. Think
about when you go into a developer's
show home, the lights
are always on, aren't they? They
do this for a reason. Similarly,
painting the walls a neutral colour makes
them seem bigger
and will allow the potential buyers
to add their own personal
touch. If they want a green and
gold dining room then let them
imagine how it would look, don't
try and pre-empt their desires.
3. Get rid of the clutter. This
is not rocket science - tidy the
mess. This is most important in
the kitchen, the cooking area often makes
or breaks a sale. Get
the washing up done and put
away, empty the bins so that
there are no lingering smells,
clean the hob and units, put
fresh fruit in a bowl and even
brew fresh coffee. De-clutter
the bedrooms, particularly if
you have teenagers. When I was
an agent I had to show properties where
the kids were still in
bed on more than one occasion,
trust me it's not a good selling
point. If you smoke then clean
out the ash trays and get rid of
the stale smells. Eyes, ears and
nose all play a part in forming a
good or bad impression.
Follow these simple rules so
that your house stands out from
the crowd, this first positive impression
will give you the best
chance of achieving a speedy
and successful sale!
45
Painting
the walls a
neutral colour
makes them
seem bigger
and will allow
the potential
buyers to add
their own personal touch.
From this...
...to this
Y