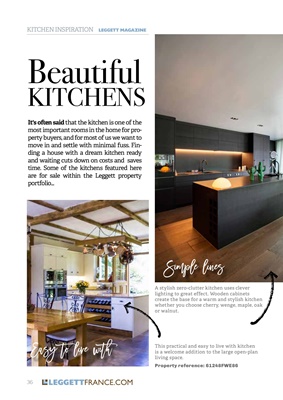 36 LEGGETTFRANCE.COM
KITCHEN INSPIRATION LEGGETT MAGAZINE
Beautiful
KITCHENS It's often said that the kitchen is one of the
most important rooms in the home for property
buyers, and for most of us we want to
move in and settle with minimal fuss. Finding a house
with a dream kitchen ready
and waiting cuts down on costs and saves
time. Some of the kitchens featured here
are for sale within the Leggett property
portfolio...
WORDS: NICKI BROWN PHOTOS : SHUTTERSTOCK
Simple lines
Easy to live with
A stylish zero-clutter kitchen uses clever
lighting to great effect. Wooden cabinets
create the base for a warm and stylish kitchen
whether you choose cherry, wenge, maple, oak
or walnut.
This practical and easy to live with kitchen
is a welcome addition to the large open-plan
living space.
Property reference: 61248FWE86 Y
Y