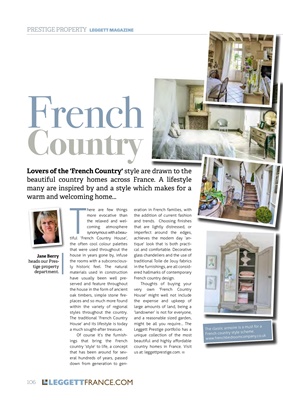 T
here are few things
more evocative than
the relaxed and welcoming
atmosphere
synonymous with a beau-
tiful 'French Country House',
the often cool colour palettes
that were used throughout the
house in years gone by, infuse
the rooms with a subconsciously historic
feel. The natural
materials used in construction
have usually been well preserved
and feature throughout
the house in the form of ancient
oak timbers, simple stone fireplaces
and so much more found
within the variety of regional
styles throughout the country.
The traditional 'French Country
House' and its lifestyle is today
a much sought-after treasure.
Of course it's the furnishings that
bring the French
country 'style' to life, a concept
that has been around for several
hundreds of years, passed
down from generation to genFrench
Country Lovers of the 'French Country' style are drawn to the
beautiful country homes across France. A lifestyle
many are inspired by and a style which makes for a
warm and welcoming home...
PRESTIGE PROPERTY LEGGETT MAGAZINEeration in French families, with
the addition of current fashion
and trends. Choosing finishes
that are lightly distressed, or
imperfect around the edges,
achieves the modern day 'antique'
look that is both practical
and comfortable. Decorative
glass chandeliers and the use of
traditional Toile de Jouy fabrics
in the furnishings, are all considered
hallmarks of contemporary
French country design.
Thoughts of buying your
very own 'French Country
House' might well not include
the expense and upkeep of
large amounts of land, being a
'landowner' is not for everyone,
and a reasonable sized garden,
might be all you require… The
Leggett Prestige portfolio has a
unique collection of the most
beautiful and highly affordable
country homes in France. Visit
us at: leggettprestige.com.
The classic armoire is a must for a
French country style scheme.
www.frenchbedroomcompany.co.uk
106 LEGGETTFRANCE.COM
Jane Berry
heads our Prestige
property
department.