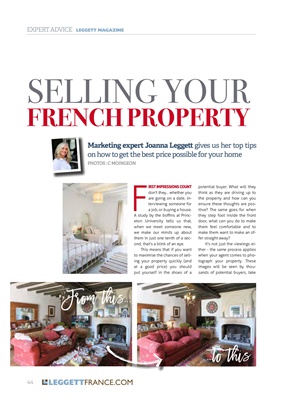 44 LEGGETTFRANCE.COM
Marketing expert Joanna Leggett gives us her top tips
on how to get the best price possible for your home
potential buyer. What will they
think as they are driving up to
the property and how can you
ensure these thoughts are positive?
The same goes for when
they step foot inside the front
door, what can you do to make
them feel comfortable and to
make them want to make an offer
straight away?
It's not just the viewings either - the same process
applies
when your agent comes to photograph
your property. These
images will be seen by thousands of
potential buyers, take
F
IRST IMPRESSIONS COUNT
don't they... whether you
are going on a date, interviewing
someone for
a job, or buying a house.
A study by the boffins at Princeton University
tells us that,
when we meet someone new,
we make our minds up about
them in just one tenth of a second, that's a blink of
an eye.
This means that if you want
to maximise the chances of selling your
property quickly (and
at a good price) you should
put yourself in the shoes of a
SELLING YOUR
FRENCH PROPERTY
EXPERT ADVICE LEGGETT MAGAZINE
PHOTOS : C MOINGEON
Y From this...
...to this