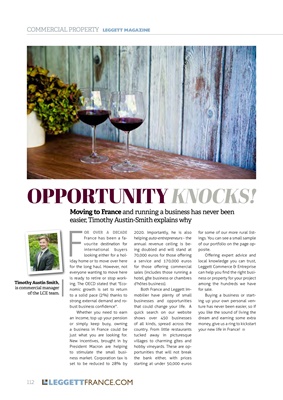 112 LEGGETTFRANCE.COM
Moving to France and running a business has never been
easier, Timothy Austin-Smith explains why
2020. Importantly, he is also
helping auto-entrepreneurs - the
annual revenue ceiling is being doubled
and will stand at
70,000 euros for those offering
a service and 170,000 euros
for those offering commercial
sales (includes those running a
hotel, gÎte business or chambres
d'hÔtes business).
Both France and Leggett Immobilier have
plenty of small
businesses and opportunities
that could change your life. A
quick search on our website
shows over 450 businesses
of all kinds, spread across the
country. From little restaurants
tucked away in picturesque
villages to charming gÎtes and
hobby vineyards. These are opportunities that
will not break
the bank either, with prices
starting at under 50,000 euros
F
OR OVER A DECADE
France has been a favourite
destination for
international buyers
looking either for a holiday home
or to move over here
for the long haul. However, not
everyone wanting to move here
is ready to retire or stop working.
The OECD stated that "Economic growth
is set to return
to a solid pace (2%) thanks to
strong external demand and robust business
confidence".
Whether you need to earn
an income, top up your pension
or simply keep busy, owning
a business in France could be
just what you are looking for.
New incentives, brought in by
President Macron are helping
to stimulate the small business
market. Corporation tax is
set to be reduced to 28% by
OPPORTUNITY KNOCKS!
Timothy Austin Smith,
is commercial manager
of the LCE team.
COMMERCIAL PROPERTY LEGGETT MAGAZINE
for some of our more rural listings. You
can see a small sample
of our portfolio on the page opposite.
Offering expert advice and
local knowledge you can trust,
Leggett Commerce & Entreprise
can help you find the right business
or property for your project
among the hundreds we have
for sale.
Buying a business or starting up
your own personal venture
has never been easier, so if
you like the sound of living the
dream and earning some extra
money, give us a ring to kickstart
your new life in France!