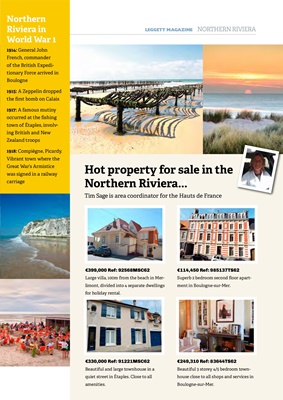 LEGGETT MAGAZINE NORTHERN RIVIERA
3.
Tim Sage is area coordinator for the Hauts de France
Northern
Riviera in
World War 1
1914: General John
French, commander
of the British Expeditionary
Force arrived in
Boulogne
1915: A Zeppelin dropped
the first bomb on Calais
1917: A famous mutiny
occurred at the fishing
town of Étaples, involving British and New
Zealand troops
1918: Compiègne, Picardy.
Vibrant town where the
Great War's Armistice
was signed in a railway
carriage
Hot property for sale in the
Northern Riviera...
€399,000 Ref: 92568MSC62
Large villa, 100m from the beach in Merlimont,
divided into 4 separate dwellings
for holiday rental.
€114,450 Ref: 985137TS62
Superb 2 bedroom second floor apartment
in Boulogne-sur-Mer.
€330,000 Ref: 91221MSC62
Beautiful and large townhouse in a
quiet street in Étaples. Close to all
amenities.
€249,310 Ref: 83644TS62
Beautiful 3 storey 4/5 bedroom townhouse
close to all shops and services in
Boulogne-sur-Mer.