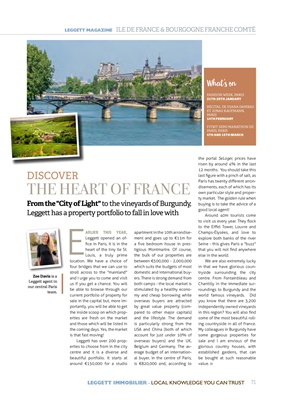 E
ARLIER THIS YEAR,
Leggett opened an office
in Paris, it is in the
heart of the tiny Ile St.
Louis, a truly prime
location. We have a choice of
four bridges that we can use to
stroll across to the "mainland"
and I urge you to come and visit
us if you get a chance. You will
be able to browse through our
current portfolio of property for
sale in the capital but, more importantly,
you will be able to get
the inside scoop on which properties are
fresh on the market
and those which will be listed in
the coming days. Yes, the market
is that fast moving!
Leggett has over 200 properties to
choose from in the city
centre and it is a diverse and
beautiful portfolio. It starts at
around €150,000 for a studio
From the "City of Light" to the vineyards of Burgundy,
Leggett has a property portfolio to fall in love with
apartment in the 10th arrondisement and
goes up to €11m for
a five bedroom house in prestigious Montmartre.
Of course,
the bulk of our properties are
between €500,000 - 2,000,000
which suits the budgets of most
domestic and international buyers.
There is strong demand from
both camps - the local market is
stimulated by a healthy economy and
cheap borrowing while
overseas buyers are attracted
by great value property (compared
to other major capitals)
and the lifestyle. The demand
is particularly strong from the
USA and China (both of which
account for just under 10% of
overseas buyers) and the UK,
Belgium and Germany. The average
budget of an international buyer,
in the centre of Paris,
is €820,000 and, according to
the portal SeLoger, prices have
risen by around 4% in the last
12 months. You should take this
last figure with a pinch of salt, as
Paris has twenty different arrondisements, each
of which has its
own particular style and property market.
The golden rule when
buying is to take the advice of a
good local agent!
Around 40m tourists come
to visit us every year. They flock
to the Eiffel Tower, Louvre and
Champs-Élysées, and love to
explore both banks of the river
Seine - this gives Paris a "buzz"
that you will not find anywhere
else in the world.
We are also extremely lucky
in that we have glorious countryside surrounding
the city
centre. From Fontainbleau and
Chantilly in the immediate surroundings
to Burgundy and the
world famous vineyards. Did
you know that there are 3,200
independently owned vineyards
in this region? You will also find
some of the most beautiful rolling countryside
in all of France.
My colleagues in Burgundy have
some gorgeous properties for
sale and I am envious of the
glorious country houses, with
established gardens, that can
be bought at such reasonable
value.
DISCOVER
FASHION WEEK, PARIS
21TH-25TH JANUARY
RÉCITAL DE DIANA DAMRAU
ET JONAS KAUFMANN,
PARIS
14TH FEBRUARY
FITBIT SEMI-MARATHON DE
PARIS, PARIS
4TH AND 15TH MARCH
What's on
LEGGETT MAGAZINE ILE DE FRANCE & BOURGOGNE FRANCHE COMTÉ
Zoe Davis is a
Leggett agent in
our central Paris
team.
THE HEART OF FRANCE
71
LEGGETT IMMOBILIER - LOCAL KNOWLEDGE YOU CAN TRUST