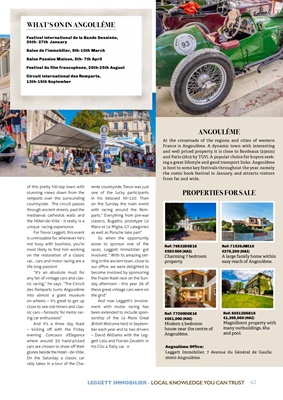 of this pretty hill-top town with
stunning views down from the
remparts over the surrounding
countryside. The circuit passes
through ancient streets, past the
mediaeval cathedral walls and
the HÔtel-de-Ville - it really is a
unique racing experience.
For Trevor Leggett, this event
is unmissable for, whenever he's
not busy with business, you're
most likely to find him working
on the restoration of a classic
car... cars and motor racing are a
life long passion!
"It's an absolute must for
any fan of vintage cars and classic racing,"
he says. "The Circuit
des Remparts turns Angoulême
into almost a giant museum
on wheels - it's great to get up
close to see old-timers and classic cars
- fantastic for motor racing car enthusiasts"
And it's a three day feast
- kicking off with the Friday
evening Concours d'Elegance
where around 30 hand-picked
cars are chosen to show off their
glories beside the Hotel - de-Ville.
On the Saturday a classic car
rally takes in a tour of the Charente
countryside, Trevor was just
one of the lucky participants
in his beloved XK-120. Then
on the Sunday the main event
with racing around the Remparts." Everything
from pre-war
classics, Bugattis, prototype Le
Mans et Le Miglia, GT categories
as well as Porsche take part"
So when the opportunity
arose to sponsor one of the
races, Leggett Immobilier got
involved. " With its amazing setting in the ancient town,
close to
our office, we were delighted to
become involved by sponsoring
the Frazer Nash race on the Sunday afternoon - this year
26 of
these great vintage cars were on
the grid"
And now Leggett's involvement with motor racing
has
been extended to include sponsorship
of the Le Mans Great
British Welcome held in September each year
and to two drivers
- David Williams with the Leggett
Lola and Florian Zavattin in
his Clio 4 Rally car.
43
LEGGETT IMMOBILIER - LOCAL KNOWLEDGE YOU CAN TRUST
Ref: 71539JMI16
€278,200 (HAI)
A large family home within
easy reach of Angoulême.
Ref: 77260DGE16
€651,000 (HAI)
Modern 5 bedroom
house near the centre of
Angoulême.
Ref: 76632DGE16
€593 600 (HAI)
Charming 7 bedroom
property.
Ref: 88512DGE16
€1,365,000 (HAI)
Magnificent property with
many outbuildings, 6ha
and pool.
ANGOULÊME
At the crossroads of the regions and cities of western
France is Angoulême. A dynamic town with interesting
and well priced property, it is close to Bordeaux (35min)
and Paris (2h15 by TGV). A popular choice for buyers seeking a
great lifestyle and good transport links. Angoulême
is host to some key festivals throughout the year, namely
the comic book festival in January, and attracts visitors
from far and wide.
WHAT'S ON IN ANGOULÊME
Festival international de la Bande Dessinée,
24th- 27th January
Salon de l'immobilier, 9th-10th March
Salon Passion Maison, 5th- 7th April
Festival du film francophone, 20th-25th August
Circuit international des Remparts,
13th-15th September
Angoulême Office:
Leggett Immobilier, 7 Avenue du Général de Gaulle,
16000 Angoulême
PROPERTIES FOR SALE