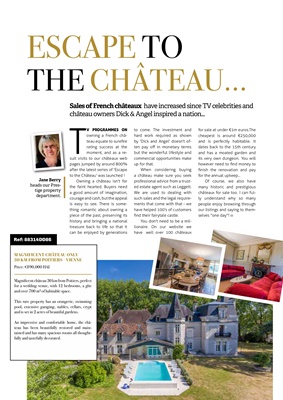 Sales of French châteaux have increased since TV celebrities and
château owners Dick & Angel inspired a nation...
to come. The investment and
hard work required as shown
by 'Dick and Angel' doesn't often pay
off in monetary terms
but the wonderful lifestyle and
commercial opportunities make
up for that.
When considering buying
a château make sure you seek
professional advice from a trusted estate agent
such as Leggett.
We are used to dealing with
such sales and the legal requirements that come
with that - we
have helped 100's of customers
find their fairytale castle.
You don't need to be a millionaire.
On our website we
have  well over 100 châteaux
for sale at under €1m euros. The
cheapest is around €250,000
and is perfectly habitable. It
dates back to the 15th century
and has a moated garden and
its very own dungeon.  You will
however need to find money to
finish the renovation and pay
for the annual upkeep...
Of course, we also have
many historic and prestigious
châteaux for sale too.  I can fully understand
why so many
people enjoy browsing through
our listings and saying to themselves
"one day"!
6
MAGNIFICENT CHÂTEAU ONLY
30 KM FROM POITIERS - VIENNE
Price: €890,000 HAI
Magnificent château 30 km from Poitiers, perfect
for a wedding venue, with 12 bedrooms, a gîte
and over 700 m² of habitable space.
This rare property has an orangerie, swimming
pool, extensive garaging, stables, cellars, crypt
and is set in 2 acres of beautiful gardens.
An impressive and comfortable home, the château has
been beautifully restored and maintained and
has many spacious rooms all thoughtfully and tastefully decorated.
Ref: 88314DD86 T
V PROGRAMMES ON
owning a French château equate
to surefire
rating success at the
moment, and as a result visits to our châteaux web
pages jumped by around 800%
after the latest series of 'Escape
to the Château' was launched !
Owning a château isn't for
the faint hearted. Buyers need
a good amount of imagination,
courage and cash, but the appeal
is easy to see. There is something romantic
about owning a
piece of the past, preserving its
history and bringing a national
treasure back to life so that it
can be enjoyed by generations
Jane Berry
heads our Prestige
property
department.
ESCAPE TO
THE CHÂTEAU...