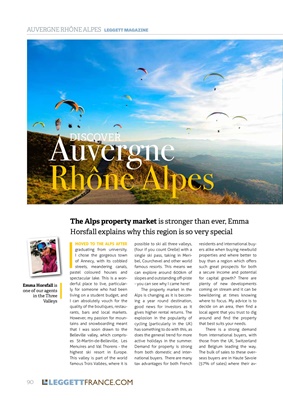 90
AUVERGNE RHÔNE ALPES LEGGETT MAGAZINE
I
MOVED TO THE ALPS AFTER
graduating from university.
I chose the gorgeous town
of Annecy, with its cobbled
streets, meandering canals,
pastel coloured houses and
spectacular lake. This is a wonderful place
to live, particularly for
someone who had been
living on a student budget, and
I can absolutely vouch for the
quality of the boutiques, restaurants,
bars and local markets.
However, my passion for mountains and
snowboarding meant
that I was soon drawn to the
Belleville valley, which comprises
St-Martin-de-Belleville, Les
Menuires and Val Thorens - the
highest ski resort in Europe.
This valley is part of the world
famous Trois Vallées, where it is
possible to ski all three valleys,
(four if you count Orelle) with a
single ski pass, taking in Meribel, Courchevel
and other world
famous resorts. This means we
can explore around 600km of
slopes and outstanding off-piste
- you can see why I came here!
The property market in the
Alps is changing as it is becoming a
year round destination,
good news for investors as it
gives higher rental returns. The
explosion in the popularity of
cycling (particularly in the UK)
has something to do with this, as
does the general trend for more
active holidays in the summer.
Demand for property is strong
from both domestic and international buyers.
There are many
tax advantages for both French
Auvergne
Rhône Alpes
DISCOVER
Emma Horsfall is
one of our agents
in the Three
Valleys
residents and international buyers
alike when buying newbuild
properties and where better to
buy than a region which offers
such great prospects for both
a secure income and potential
for capital growth? There are
plenty of new developments
coming on stream and it can be
bewildering at times knowing
where to focus. My advice is to
decide on an area, then find a
local agent that you trust to dig
around and find the property
that best suits your needs.
There is a strong demand
from international buyers, with
those from the UK, Switzerland
and Belgium leading the way.
The bulk of sales to these overseas buyers
are in Haute Savoie
(57% of sales) where their avThe Alps
property market is stronger than ever, Emma
Horsfall explains why this region is so very special
LEGGETTFRANCE.COM