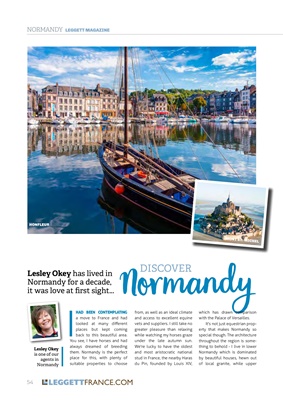 Normandy
54 LEGGETTFRANCE.COM
I
HAD BEEN CONTEMPLATING
a move to France and had
looked at many different
places but kept coming
back to this beautiful area.
You see, I have horses and had
always dreamed of breeding
them. Normandy is the perfect
place for this, with plenty of
suitable properties to choose
from, as well as an ideal climate
and access to excellent equine
vets and suppliers. I still take no
greater pleasure than relaxing
while watching my horses graze
under the late autumn sun.
We're lucky to have the oldest
and most aristocratic national
stud in France, the nearby Haras
du Pin, founded by Louis XIV,
which has drawn comparison
with the Palace of Versailles.
It's not just equestrian property that
makes Normandy so
special though.  The architecture
throughout the region is something to behold - I live
in lower
Normandy which is dominated
by beautiful houses, hewn out
of local granite, while upper
Lesley Okey has lived in
Normandy for a decade,
it was love at first sight...
DISCOVER
Lesley Okey
is one of our
agents in
Normandy
NORMANDY LEGGETT MAGAZINE
HONFLEUR
MONT ST. MICHEL