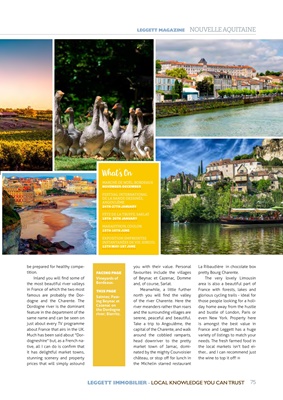 75
FACING PAGE
Vineyards of
Bordeaux.
THIS PAGE
Saintes; Passing Beynac
et
Cazenac on
the Dordogne
river; Biarritz.
be prepared for healthy competition.
Inland you will find some of
the most beautiful river valleys
in France of which the two most
famous are probably the Dordogne
and the Charente. The
Dordogne river is the dominant
feature in the department of the
same name and can be seen on
just about every TV programme
about France that airs in the UK.
Much has been said about "Dordogneshire"
but, as a French native,
all I can do is confirm that
it has delightful market towns,
stunning scenery and property
prices that will simply astound
you with their value. Personal
favourites include the villages
of Beynac et Cazenac, Domme
and, of course, Sarlat.
Meanwhile, a little further
north you will find the valley
of the river Charente. Here the
river meanders rather than roars
and the surrounding villages are
serene, peaceful and beautiful.
Take a trip to Angoulême, the
capital of the Charente, and walk
around the cobbled ramparts,
head downriver to the pretty
market town of Jarnac, dominated by
the mighty Courvoisier
château, or stop off for lunch in
the Michelin starred restaurant
La Ribaudière in chocolate box
pretty Bourg Charente.
The very lovely Limousin
area is also a beautiful part of
France with forests, lakes and
glorious cycling trails - ideal for
those people looking for a holiday home
away from the hustle
and bustle of London, Paris or
even New York. Property here
is amongst the best value in
France and Leggett has a huge
variety of listings to match your
needs. The fresh farmed food in
the local markets isn't bad either...
and I can recommend just
the wine to top it off!
75
LEGGETT MAGAZINE NOUVELLE AQUITAINE
LEGGETT IMMOBILIER - LOCAL KNOWLEDGE YOU CAN TRUST
MARCHÉ DE NOËL, BORDEAUX
NOVEMBER-DECEMBER
FESTIVAL INTERNATIONAL
DE LA BANDE-DESSINÉE,
ANGOULÊME
24TH-27TH JANUARY
FÊTE DE LA TRUFFE, SARLAT
19TH- 20TH JANUARY
MARAISTHON, COULON
15TH-16TH JUNE
EXPOSITION EMPREINTES
INSTANTANÉES DE VIE, SIREUIL
12TH MAY-1ST JUNE
What's On