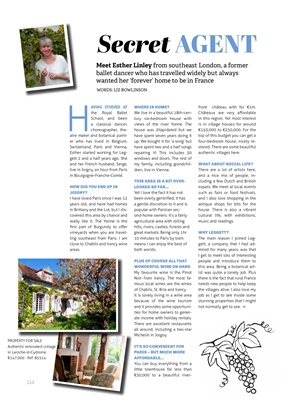 Meet Esther Linley from southeast London, a former
ballet dancer who has travelled widely but always
wanted her 'forever' home to be in France
114
WORDS: LIZ ROWLINSON
H
AVING STUDIED AT
the Royal Ballet
School, and been
a classical dancer,
choreographer, theatre
maker and botanical painter who
has lived in Belgium,
Switzerland, Paris and Vienna,
Esther started working for Leggett
2 and a half years ago. She
and her French husband, Serge,
live in Joigny, an hour from Paris
in Bourgogne-Franche-Comté.
HOW DID YOU END UP IN
JOIGNY?
I have loved Paris since I was 12
years old, and have had homes
in Brittany and the Lot, but I discovered
this area by chance and
really like it. The Yonne is the
first part of Burgundy to offer
vineyards when you are travelling southeast
from Paris. I am
close to Chablis and Irancy wine
areas.
WHERE IS HOME?
We live in a beautiful 18th-century six-bedroom
house with
views of the river Yonne. The
house was dilapidated but we
have spent seven years doing it
up. We bought it for 'a song' but
have spent two and a half songs
repairing it! This includes 30
windows and doors. The rest of
my family, including grandchildren,
live in Vienna.
THIS AREA IS A BIT OVERLOOKED
SO FAR...
Yet I love the fact it has not
been overly gentrified, it has
a gentle discretion to it and is
popular with Parisian second-home owners.
It's a fairly
agricultural area with rolling
hills, rivers, castles, forests and
great markets. Being only 1hr
10 minutes to Paris by train
means I can enjoy the best of
both worlds.
PLUS OF COURSE ALL THAT
WONDERFUL WINE ON HAND
My favourite wine is the Pinot
Noir from Irancy. The most famous local
wines are the wines
of Chablis, St. Brie and Irancy.
It is lovely living in a wine area
because of the wine tourism
and it provides some opportunities for
home owners to generate income
with holiday rentals.
There are excellent restaurants
all around, including a two-star
Michelin in Joigny.
IT'S SO CONVENIENT FOR
PARIS - BUT MUCH MORE
AFFORDABLE...
You can buy everything from a
little townhouse for less than
€30,000 to a beautiful riverSecret
AGENT
front château with for €1m.
Châteaux are very affordable
in this region. Yet most interest
is in village houses for around
€150,000 to €250,000. For the
top of this budget you can get a
four-bedroom house, nicely restored.
There are some beautiful
authentic villages here.
WHAT ABOUT SOCIAL LIFE?
There are a lot of artists here,
and a nice mix of people, including a
few Dutch and British
expats. We meet at local events
such as fairs or food festivals,
and I also love shopping in the
antique shops for bits for the
house. There is also a vibrant
cultural life, with exhibitions,
music and readings.
WHY LEGGETT?
The main reason I joined Leggett,
a company that I had admired
for many years, was that
I get to meet lots of interesting
people and introduce them to
this area. Being a botanical artist was
quite a lonely job. Plus
there is the fact that rural France
needs new people to help keep
the villages alive. I also love my
job as I get to see inside some
stunning properties that I might
not normally get to see.
PROPERTY FOR SALE
Authentic renovated cottage
in Laroche-st-Cydroine.
€147,000 Ref: 85514