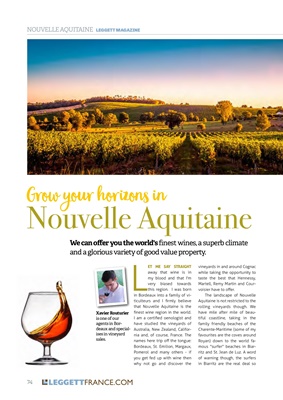 74747474
Xavier Routurier
is one of our
agents in Bordeaux
and specialises
in vineyard
sales. L
ET ME SAY STRAIGHT
away that wine is in
my blood and that I'm
very biased towards
this region. I was born
in Bordeaux into a family of viticulteurs
and I firmly believe
that Nouvelle Aquitaine is the
finest wine region in the world.
I am a certified oenologist and
have studied the vineyards of
Australia, New Zealand, California and,
of course, France. The
names here trip off the tongue:
Bordeaux, St. Emilion, Margaux,
Pomerol and many others - if
you get fed up with wine then
why not go and discover the
vineyards in and around Cognac
while taking the opportunity to
taste the best that Hennessy,
Martell, Remy Martin and Courvoisier
have to offer.
The landscape of Nouvelle
Aquitaine is not restricted to the
rolling vineyards though. We
have mile after mile of beautiful coastline,
taking in the
family friendly beaches of the
Charente-Maritime (some of my
favourites are the coves around
Royan) down to the world famous "surfer"
beaches in Biarritz and
St. Jean de Luz. A word
of warning though, the surfers
in Biarritz are the real deal so
74 LEGGETTFRANCE.COM
NOUVELLE AQUITAINE LEGGETT MAGAZINE
Nouvelle Aquitaine
We can offer you the world's finest wines, a superb climate
and a glorious variety of good value property.
Grow your horizons in