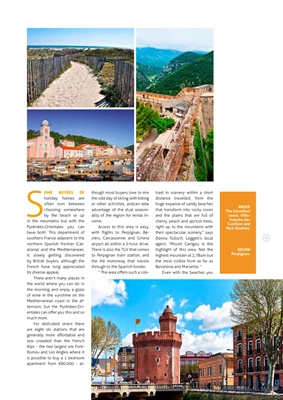 5.
S
OME BUYERS OF
holiday homes are
often torn between
choosing somewhere
by the beach or up
in the mountains but with the
Pyrénées-Orientales you can
have both. This department of
southern France adjacent to the
northern Spanish frontier (Catalonia) and the Mediterranean,
is slowly getting discovered
by British buyers, although the
French have long appreciated
its diverse appeal.
There aren't many places in
the world where you can ski in
the morning and enjoy a glass
of wine in the sunshine on the
Mediterranean coast in the afternoon, but the Pyrénées-Orientales
can
offer you this and so
much more.
For dedicated skiers there
are eight ski stations that are
generally more affordable and
less crowded than the French
Alps - the two largest are FontRomeu
and Les Angles where it
is possible to buy a 1 bedroom
apartment from €80,000 - al4.
though most buyers love to mix
the odd day of skiing with biking
or other activities, andcan take
advantage of the dual seasonality of
the region for rental income.
Access to this area is easy,
with flights to Perpignan, Béziers,
Carcassonne and Girona
airport all within a 2-hour drive.
There is also the TGV that comes
to Perpignan train station, and
the A9 motorway that travels
through to the Spanish border.
" The area offers such a contrast
in scenery within a short
distance travelled, from the
huge expanse of sandy beaches
that transform into rocky coves
and the plains that are full of
cherry, peach and apricot trees,
right up to the mountains with
their spectacular scenery," says
Donna Tulloch, Leggett's local
agent. "Mount Canigou is the
highlight of this area. Not the
highest mountain at 2,784m but
the most visible from as far as
Barcelona and Marseille. "
Even with the beaches you
ABOVE
The Vermilion
coast; Villefranche-de-
Conflent and
Port-Vendres.
BELOW
Perpignan.