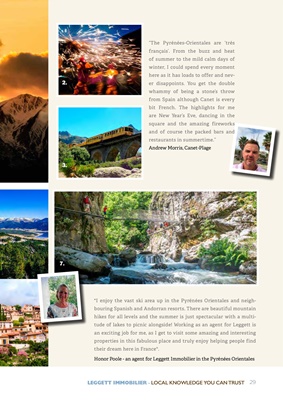 29
LEGGETT IMMOBILIER - LOCAL KNOWLEDGE YOU CAN TRUST
5.
"I enjoy the vast ski area up in the Pyrénées Orientales and neighbouring
Spanish and Andorran resorts. There are beautiful mountain
hikes for all levels and the summer is just spectacular with a multitude
of lakes to picnic alongside! Working as an agent for Leggett is
an exciting job for me, as I get to visit some amazing and interesting
properties in this fabulous place and truly enjoy helping people find
their dream here in France".
Honor Poole - an agent for Leggett Immobilier in the Pyrénées Orientales
2.
7.
"The Pyrénées-Orientales are 'trés
français'. From the buzz and heat
of summer to the mild calm days of
winter, I could spend every moment
here as it has loads to offer and never disappoints.
You get the double
whammy of being a stone's throw
from Spain although Canet is every
bit French. The highlights for me
are New Year's Eve, dancing in the
square and the amazing fireworks
and of course the packed bars and
restaurants in summertime."
Andrew Morris, Canet-Plage
3.