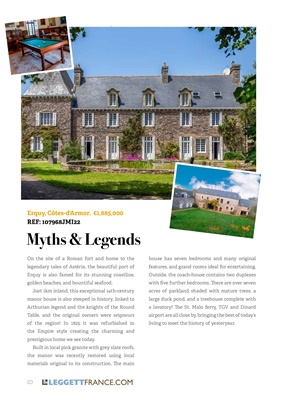 10 LEGGETTFRANCE.COM
VINTAGE CHIC IN THE VENDÉE LEGGETT MAGAZINE
Myths & Legends
On the site of a Roman fort and home to the
legendary tales of Astérix, the beautiful port of
Erquy is also famed for its stunning coastline,
golden beaches, and bountiful seafood.
Just 1km inland, this exceptional 14th-century
manor house is also steeped in history, linked to
Arthurian legend and the knights of the Round
Table, and the original owners were seigneurs
of the region! In 1825 it was refurbished in
the Empire style creating the charming and
prestigious home we see today.
Built in local pink granite with grey slate roofs,
the manor was recently restored using local
materials original to its construction. The main
house has seven bedrooms and many original
features, and grand rooms ideal for entertaining.
Outside, the coach-house contains two duplexes
with five further bedrooms. There are over seven
acres of parkland shaded with mature trees, a
large duck pond, and a treehouse complete with
a lavatory! The St. Malo ferry, TGV and Dinard
airport are all close by, bringing the best of today's
living to meet the history of yesteryear.
Erquy, Côtes-d'Armor. €1,885,000
REF: 107968JMI22