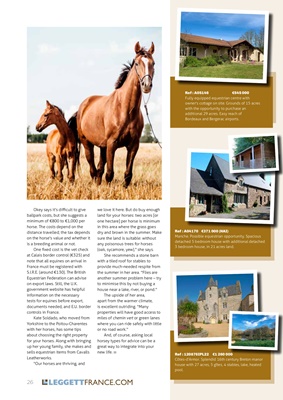 26 LEGGETTFRANCE.COM
Ref : A04170 €371 000 (HAI)
Manche. Possible equestrian opportunity. Spacious
detached 5 bedroom house with additional detached
3 bedroom house, in 21 acres land.
Okey says it's difficult to give
ballpark costs, but she suggests a
minimum of €800 to €1,000 per
horse. The costs depend on the
distance travelled; the tax depends
on the horse's value and whether it
is a breeding animal or not.
One fixed cost is the vet check
at Calais border control (€325) and
note that all equines on arrival in
France must be registered with
S.I.R.E. (around €130). The British
Equestrian Federation can advise
on export laws. Still, the U.K.
government website has helpful
information on the necessary
tests for equines before export,
documents needed, and E.U. border
controls in France.
Kate Soldado, who moved from
Yorkshire to the Poitou-Charentes
with her horses, has some tips
about choosing the right property
for your horses. Along with bringing
up her young family, she makes and
sells equestrian items from Cavalls
Leatherworks.
"Our horses are thriving, and
we love it here. But do buy enough
land for your horses: two acres [or
one hectare] per horse is minimum
in this area where the grass goes
dry and brown in the summer. Make
sure the land is suitable: without
any poisonous trees for horses
(oak, sycamore, yew)," she says.
She recommends a stone barn
with a tiled roof for stables to
provide much-needed respite from
the summer in her area. "Flies are
another summer problem here - try
to minimise this by not buying a
house near a lake, river, or pond."
The upside of her area,
apart from the warmer climate,
is excellent outriding. "Many
properties will have good access to
miles of chemin vert or green lanes
where you can ride safely with little
or no road work."
And, of course, asking local
horsey types for advice can be a
great way to integrate into your
new life.
Ref : A05146 €545 000
Fully equipped equestrian centre with
owner's cottage on site. Grounds of 15 acres
with the opportunity to purchase an
additional 29 acres. Easy reach of
Bordeaux and Bergerac airports.
Ref : 120876IPL22 €1 260 000
Côtes-d'Armor. Splendid 16th century Breton manor
house with 27 acres, 5 gîtes, 4 stables, lake, heated
pool.