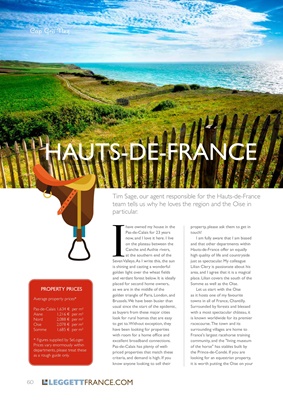 I
have owned my house in the
Pas-de-Calais for 23 years
now, and I love it here. I live
on the plateau between the
Canche and Authie rivers,
at the southern end of the
Seven Valleys. As I write this, the sun
is shining and casting a wonderful
golden light over the wheat fields
and verdant forest below. It is ideally
placed for second home owners,
as we are in the middle of the
golden triangle of Paris, London, and
Brussels. We have been busier than
usual since the start of the epidemic,
as buyers from these major cities
look for rural homes that are easy
to get to. Without exception, they
have been looking for properties
with room for a home office and
excellent broadband connections.
Pas-de-Calais has plenty of wellpriced properties
that match these
criteria, and demand is high. If you
know anyone looking to sell their
Tim Sage, our agent responsible for the Hauts-de-France
team tells us why he loves the region and the Oise in
particular.
property, please ask them to get in
touch!
I am fully aware that I am biased
and that other departments within
Hauts-de-France offer an equally
high quality of life and countryside
just as spectacular. My colleague
Lilian Clery is passionate about his
area, and I agree that it is a magical
place. Lilian covers the south of the
Somme as well as the Oise.
Let us start with the Oise
as it hosts one of my favourite
towns in all of France, Chantilly.
Surrounded by forests and blessed
with a most spectacular château, it
is known worldwide for its premier
racecourse. The town and its
surrounding villages are home to
France's largest racehorse training
community, and the "living museum
of the horse" has stables built by
the Prince-de-Condé. If you are
looking for an equestrian property,
it is worth putting the Oise on your
HAUTS-DE-FRANCE
60 LEGGETTFRANCE.COM
Cap Gris Nez
Average property prices*
Pas-de-Calais 1,634 € per m²
Aisne 1,216 € per m²
Nord 2,088 € per m²
Oise 2,078 € per m²
Somme 1,685 € per m²
* Figures supplied by SeLoger.
Prices vary enormously within
departments, please treat these
as a rough guide only.
PROPERTY PRICES