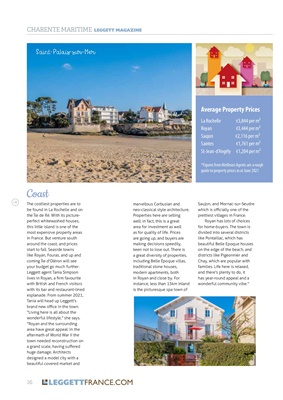 CHARENTE MARITIME LEGGETT MAGAZINE
LEGGETTFRANCE.COM
16
Saujon, and Mornac-sur-Seudre
which is officially one of the
prettiest villages in France.
Royan has lots of choices
for home-buyers. The town is
divided into several districts
like Pontaillac, which has
beautiful Belle Epoque houses
on the edge of the beach, and
districts like Pigeonnier and
Chay, which are popular with
families. Life here is relaxed,
and there's plenty to do, it
has year-round appeal and a
wonderful community vibe."
CoastThe costliest properties are to
be found in La Rochelle and on
the Île de Ré. With its pictureperfect
whitewashed houses,
this little island is one of the
most expensive property areas
in France. But venture south
around the coast, and prices
start to fall. Seaside towns
like Royan, Fouras, and up and
coming Île d'Oléron will see
your budget go much further.
Leggett agent Tania Simpson
lives in Royan, a firm favourite
with British and French visitors
with its bar and restaurant-lined
esplanade. From summer 2021,
Tania will head up Leggett's
brand new office in the town.
"Living here is all about the
wonderful lifestyle," she says.
"Royan and the surrounding
area have great appeal. In the
aftermath of World War II the
town needed reconstruction on
a grand scale, having suffered
huge damage. Architects
designed a model city with a
beautiful covered market and
marvellous Corbusian and
neo-classical style architecture.
Properties here are selling
well; in fact, this is a great
area for investment as well
as for quality of life. Prices
are going up, and buyers are
making decisions speedily,
keen not to lose out. There is
a great diversity of properties,
including Belle Époque villas,
traditional stone houses,
modern apartments, both
in Royan and close by. For
instance, less than 15km inland
is the picturesque spa town of
Average Property Prices
La Rochelle €3,844 per m²
Royan €3,444 per m²
Saujon €2,116 per m²
Saintes €1,761 per m²
St-Jean-d'Angély €1,204 per m²
*Figures from Meilleurs Agents are a rough
guide to property prices as at June 2021
Saint-Palais-sur-Mer