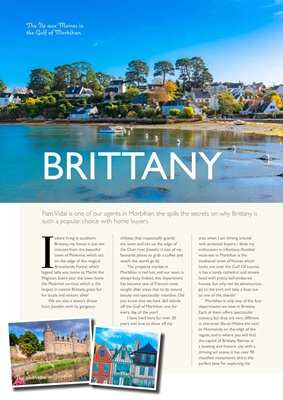 I
adore living in southern
Brittany; my house is just ten
minutes from the beautiful
town of Ploërmel, which sits
on the edge of the magical
Broceliande Forest, which
legend tells was home to Merlin the
Magician. Every year the town hosts
the Ploërmel carnival, which is the
largest in central Brittany, great fun
for locals and visitors alike!
We are also a stone's throw
from Josselin, with its gorgeous
Pam Vidal is one of our agents in Morbihan; she spills the secrets on why Brittany is
such a popular choice with home buyers.
château that majestically guards
the town and sits on the edge of
the Oust river. Josselin is one of my
favourite places to grab a coffee and
watch the world go by.
The property market in
Morbihan is red hot, and our team is
always busy. Indeed, this department
has become one of France's most
sought after areas due to its natural
beauty and spectacular coastline. Did
you know that we have 365 islands
off the Gulf of Morbihan, one for
every day of the year?
I have lived here for over 20
years and love to show off my
area when I am driving around
with potential buyers; I think my
enthusiasm is infectious. Another
must-see in Morbihan is the
mediaeval town of Vannes which
looks out over the Gulf. Of course,
it has a lovely cathedral and streets
lined with pretty half-timbered
houses, but why not be adventurous,
go to the port and take a boat out
to one of the islands?
Morbihan is only one of the four
departments we have in Brittany.
Each of them offers spectacular
scenery, but they are very different
in character. Ille-et-Vilaine sits next
to Normandy, on the edge of the
region, and is where you will find
the capital of Brittany. Rennes is
a bustling and historic city with a
thriving art scene; it has over 90
classified monuments and is the
perfect base for exploring the
44 BRITTANY
The château in Josselin
The Île aux Moines in
the Gulf of Morbihan
Vannes