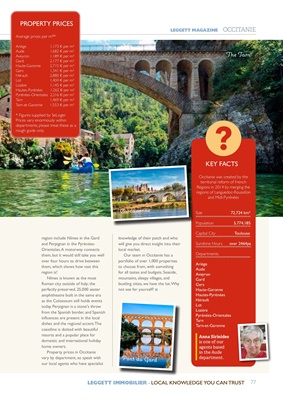 77
LEGGETT IMMOBILIER - LOCAL KNOWLEDGE YOU CAN TRUST
LEGGETT MAGAZINE OCCITANIE
region include Nîmes in the Gard
and Perpignan in the Pyrénées-
Orientales. A motorway connects
them, but it would still take you well
over four hours to drive between
them, which shows how vast this
region is!
Nîmes is known as the most
Roman city outside of Italy; the
perfectly preserved, 25,000 seater
amphitheatre built in the same era
as the Colosseum still holds events
today. Perpignan is a stone's throw
from the Spanish border, and Spanish
influences are present in the local
dishes and the regional accent. The
coastline is dotted with beautiful
resorts and a popular place for
domestic and international holiday
home owners.
Property prices in Occitanie
vary by department, so speak with
our local agents who have specialist
KEY FACTS
Occitanie was created by the
territorial reform of French
Regions in 2014 by merging the
regions: of Languedoc-Roussillon
and Midi-Pyrénées
Size 72,724 km²
Population 5,774,185
Capital City Toulouse
Sunshine Hours over 2464pa
Departments:
Ariège
Aude
Aveyron
Gard
Gers
Haute-Garonne
Hautes-Pyrénées
Hérault
Lot
Lozère
Pyrénées-Orientales
Tarn
Tarn-et-Garonne
Anna Sirinides
is one of our
agents based
in the Aude
department.
?
knowledge of their patch and who
will give you direct insight into their
local market.
Our team in Occitanie has a
portfolio of over 1,000 properties
to choose from, with something
for all tastes and budgets. Seaside,
mountains, sleepy villages, and
bustling cities, we have the lot. Why
not see for yourself?
Average prices per m²*
Ariège 1,173 € per m²
Aude 1,682 € per m²
Aveyron 1,189 € per m²
Gard 2,177 € per m²
Haute-Garonne 2,715 € per m²
Gers 1,341 € per m²
Hérault 2,880 € per m²
Lot 1,404 € per m²
Lozère 1,145 € per m²
Hautes-Pyrénées 1,262 € per m²
Pyrénées-Orientales 2,216 € per m²
Tarn 1,469 € per m²
Tarn-et-Garonne 1,553 € per m²
* Figures supplied by SeLoger.
Prices vary enormously within
departments, please treat these as a
rough guide only.
PROPERTY PRICES
The Tarn
Carcassonne
Pont du Gard