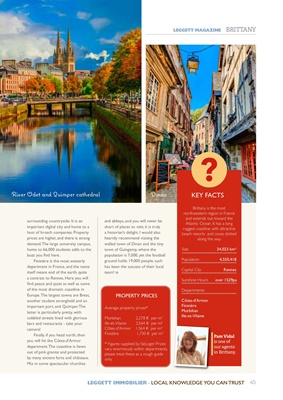 45
LEGGETT MAGAZINE BRITTANY
surrounding countryside. It is an
important digital city and home to a
host of hi-tech companies. Property
prices are higher, and there is strong
demand. The large university campus,
home to 66,000 students adds to the
buzz you find here.
Finistère is the most westerly
department in France, and the name
itself means end of the earth, quite
a contrast to Rennes. Here you will
find peace and quiet as well as some
of the most dramatic coastline in
Europe. The largest towns are Brest,
another student stronghold and an
important port, and Quimper. The
latter is particularly pretty, with
cobbled streets lined with glorious
bars and restaurants - take your
camera!
Finally, if you head north, then
you will hit the Côtes-d'Armor
department. The coastline is hewn
out of pink granite and protected
by many ancient forts and châteaux.
Mix in some spectacular churches
and abbeys, and you will never be
short of places to visit; it is truly
a historian's delight. I would also
heartily recommend visiting the
walled town of Dinan and the tiny
town of Guingamp, where the
population is 7,000, yet the football
ground holds 19,000 people, such
has been the success of their local
team!
Average property prices*
Morbihan 2,278 € per m²
Ille-et-Vilaine 2,564 € per m²
Côtes-d'Armor 1,564 € per m²
Finistère 1,730 € per m²
* Figures supplied by SeLoger. Prices
vary enormously within departments,
please treat these as a rough guide
only. PROPERTY PRICES
KEY FACTS
Brittany is the most
northwestern region in France
and extends out toward the
Atlantic Ocean. It has a long
rugged coastline with attractive
beach resorts and coves dotted
along the way.
Size 34,023 km²
Population 4,550,418
Capital City Rennes
Sunshine Hours over 1529pa
Departments:
Côtes-d'Armor
Finistère
Morbihan
Ille-et-Vilaine
Pam Vidal
is one of
our agents
in Brittany.
?
River Odet and Quimper cathedral Dinan
LEGGETT IMMOBILIER - LOCAL KNOWLEDGE YOU CAN TRUST