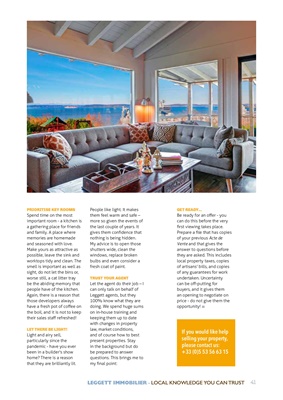 41
LEGGETT IMMOBILIER - LOCAL KNOWLEDGE YOU CAN TRUST
PRIORITISE KEY ROOMS
Spend time on the most
important room - a kitchen is
a gathering place for friends
and family. A place where
memories are homemade
and seasoned with love.
Make yours as attractive as
possible, leave the sink and
worktops tidy and clean. The
smell is important as well as
sight, do not let the bins or,
worse still, a cat litter tray
be the abiding memory that
people have of the kitchen.
Again, there is a reason that
those developers always
have a fresh pot of coffee on
the boil, and it is not to keep
their sales staff refreshed!
LET THERE BE LIGHT!
Light and airy sell,
particularly since the
pandemic - have you ever
been in a builder's show
home? There is a reason
that they are brilliantly lit.
People like light. It makes
them feel warm and safe -
more so given the events of
the last couple of years. It
gives them confidence that
nothing is being hidden.
My advice is to open those
shutters wide, clean the
windows, replace broken
bulbs and even consider a
fresh coat of paint.
TRUST YOUR AGENT
Let the agent do their job - I
can only talk on behalf of
Leggett agents, but they
100% know what they are
doing. We spend huge sums
on in-house training and
keeping them up to date
with changes in property
law, market conditions,
and of course how to best
present properties. Stay
in the background but do
be prepared to answer
questions. This brings me to
my final point:
GET READY...
Be ready for an offer - you
can do this before the very
first viewing takes place.
Prepare a file that has copies
of your previous Acte de
Vente and that gives the
answer to questions before
they are asked. This includes
local property taxes, copies
of artisans' bills, and copies
of any guarantees for work
undertaken. Uncertainty
can be off-putting for
buyers, and it gives them
an opening to negotiate on
price - do not give them the
opportunity!
If you would like help
selling your property,
please contact us:
+33 (0)5 53 56 63 15