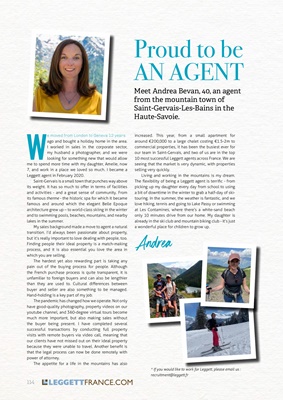 114
* If you would like to work for Leggett, please email us :
LEGGETTFRANCE.COM
W
e moved from London to Geneva 12 years
ago and bought a holiday home in the area.
I worked in sales in the corporate sector,
my husband a photographer, and we were
looking for something new that would allow
me to spend more time with my daughter, Amelie, now
7, and work in a place we loved so much. I became a
Leggett agent in February 2020.
Saint-Gervais is a small town that punches way above
its weight. It has so much to offer in terms of facilities
and activities - and a great sense of community. From
its famous therme - the historic spa for which it became
famous and around which the elegant Belle Epoque
architecture grew up - to world-class skiing in the winter
and to swimming pools, beaches, mountains, and nearby
lakes in the summer.
My sales background made a move to agent a natural
transition. I'd always been passionate about property,
but it's really important to love dealing with people, too.
Finding people their ideal property is a match-making
process, and it is also essential you love the area in
which you are selling.
The hardest yet also rewarding part is taking any
pain out of the buying process for people. Although
the French purchase process is quite transparent, it is
unfamiliar to foreign buyers and can also be lengthier
than they are used to. Cultural differences between
buyer and seller are also something to be managed.
Hand-holding is a key part of my job.
The pandemic has changed how we operate. Not only
have good-quality photography, property videos on our
youtube channel, and 360-degree virtual tours become
much more important, but also making sales without
the buyer being present. I have completed several
successful transactions by conducting full property
visits with remote buyers via video call, meaning that
our clients have not missed out on their ideal property
because they were unable to travel. Another benefit is
that the legal process can now be done remotely with
power of attorney.
The appetite for a life in the mountains has also Proud to be
AN AGENT
increased. This year, from a small apartment for
around €200,000 to a large chalet costing €1.5-2m to
commercial properties, it has been the busiest ever for
our team in Saint-Gervais, and two of us are in the top
10 most successful Leggett agents across France. We are
seeing that the market is very dynamic, with properties
selling very quickly.
Living and working in the mountains is my dream.
The flexibility of being a Leggett agent is terrific - from
picking up my daughter every day from school to using
a bit of downtime in the winter to grab a half-day of skitouring. In the summer,
the weather is fantastic, and we
love hiking, tennis and going to Lake Passy or swimming
at Les Contamines, where there's a white-sand beach
only 10 minutes drive from our home. My daughter is
already in the ski club and mountain biking club - it's just
a wonderful place for children to grow up.
Andrea
Meet Andrea Bevan, 40, an agent
from the mountain town of
Saint-Gervais-Les-Bains in the
Haute-Savoie.