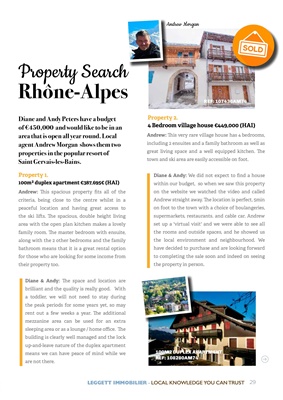 LEGGETT IMMOBILIER - LOCAL KNOWLEDGE YOU CAN TRUST 29
REF: 108280AM74
Andrew: This spacious property fits all of the
criteria, being close to the centre whilst in a
peaceful location and having great access to
the ski lifts. The spacious, double height living
area with the open plan kitchen makes a lovely
family room. The master bedroom with ensuite,
along with the 2 other bedrooms and the family
bathroom means that it is a great rental option
for those who are looking for some income from
their property too.
Diane & Andy: The space and location are
brilliant and the quality is really good. With
a toddler, we will not need to stay during
the peak periods for some years yet, so may
rent out a few weeks a year. The additional
mezzanine area can be used for an extra
sleeping area or as a lounge / home office. The
building is clearly well managed and the lock
up-and-leave nature of the duplex apartment
means we can have peace of mind while we
are not there.
Diane and Andy Peters have a budget
of €450,000 and would like to be in an
area that is open all year round. Local
agent Andrew Morgan shows them two
properties in the popular resort of
Saint Gervais-les-Bains.
Property 1.
100m2 duplex apartment €387,695€ (HAI)
Property Search
Rhône-Alpes Andrew: This very rare village house has 4 bedrooms,
including 2 ensuites and a family bathroom as well as
great living space and a well equipped kitchen. The
town and ski area are easily accessible on foot.
Diane & Andy: We did not expect to find a house
within our budget, so when we saw this property
on the website we watched the video and called
Andrew straight away. The location is perfect, 5min
on foot to the town with a choice of boulangeries,
supermarkets, restaurants. and cable car. Andrew
set up a 'virtual visit' and we were able to see all
the rooms and outside spaces, and he showed us
the local environment and neighbourhood. We
have decided to purchase and are looking forward
to completing the sale soon and indeed on seeing
the property in person.
REF: 107436AM74
Property 2.
4 Bedroom village house €449,000 (HAI)
Andrew Morgan
100M2 DUPLEX APARTMENT
REF: 108280AM74