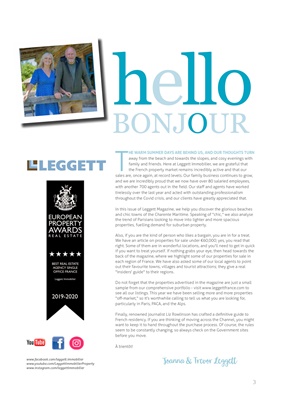 LEGGETTPRESTIGE
3
T
HE WARM SUMMER DAYS ARE BEHIND US, AND OUR THOUGHTS TURN
away from the beach and towards the slopes, and cosy evenings with
family and friends. Here at Leggett Immobilier, we are grateful that
the French property market remains incredibly active and that our
sales are, once again, at record levels. Our family business continues to grow,
and we are incredibly proud that we now have over 80 salaried employees,
with another 700 agents out in the field. Our staff and agents have worked
tirelessly over the last year and acted with outstanding professionalism
throughout the Covid crisis, and our clients have greatly appreciated that.
In this issue of Leggett Magazine, we help you discover the glorious beaches
and chic towns of the Charente Maritime. Speaking of "chic," we also analyse
the trend of Parisians looking to move into lighter and more spacious
properties, fuelling demand for suburban property.
Also, if you are the kind of person who likes a bargain, you are in for a treat.
We have an article on properties for sale under €60,000; yes, you read that
right. Some of them are in wonderful locations, and you'll need to get in quick
if you want to treat yourself. If nothing grabs your eye, then head towards the
back of the magazine, where we highlight some of our properties for sale in
each region of France. We have also asked some of our local agents to point
out their favourite towns, villages and tourist attractions; they give a real
"insiders' guide" to their regions.
Do not forget that the properties advertised in the magazine are just a small
sample from our comprehensive portfolio - visit www.leggettfrance.com to
see all our listings. This year we have been selling more and more properties
"off-market," so it's worthwhile calling to tell us what you are looking for,
particularly in Paris, PACA, and the Alps.
Finally, renowned journalist Liz Rowlinson has crafted a definitive guide to
French residency. If you are thinking of moving across the Channel, you might
want to keep it to hand throughout the purchase process. Of course, the rules
seem to be constantly changing, so always check on the Government sites
before you move.
À bientôt!
www.facebook.com/leggett.immobilier
www.youtube.com/LeggettImmobilierProperty
www.instagram.com/leggettimmobilier helloBONJOUR
Joanna & Trevor Leggett